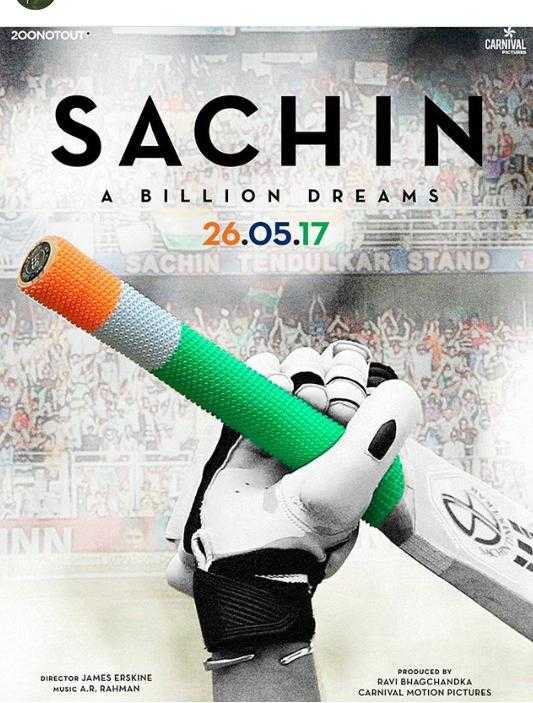 Sachin Tendulkar's bio-drama will have a grand premiere in Mumbai on May 24, 2017
Probably the most awaited film of the year, Sachin: A Billion Dreams sees its release release date coming closer and fans are ecstatic. Sachin Tendulkar's biopic will have it's grand premiere in Mumbai on May 24, 2017. So mark your calendars, people!
Sachin: A Billion Dreams is directed by James Erskine and sees Sachin Tendulkar playing himself in the film. The biopic will also include his closest family members who have been the strongest support for the cricketer throughout his life, including wife Anjali Tendulkar, and his two children – son Arjun Tendulkar and daughter Sara Tendulkar. MS Dhoni, who had his own biography created for the big screen, will make a number of appearances in the film.
Sachin Tendulkar's biopic has been shot in Hindi as well as his native language, Marathi. However, for the masses who will be gathering to watch the film, it is also being dubbed in major Indian languages, including Tamil, Telegu and English as well, for the international audience.
Expect to see a number of celebs from Bollywood make their appearance felt at the premiere of Sachin: A Billion Dreams. Of course, Bollywood Garam will be bringing you updates straight from the red carpet, so stay tuned!
The storyline for Sachin: A Billion Dreams is based on the legend's life. Going back down memory lane, viewers will be able to re-take the journey of the Master Blaster from his humble beginnings, to his passion for cricket and his legacy in becoming one of the most celebrated cricketing legends in the world.
Sachin Tendulkar had organized a special screening of the film for the Armed Forces. The lucky few of our uniformed heroes were the first to watch the film at the Air Force Auditorium in Delhi on May 20, 2017.
Sachin: A Billion Dreams is being produced by Ravi Bhagchandka and Carnival Motion Pictures under the 200 NotOut Productions banner. Oscar-winning music producer, A R Rahman has contributed his musical genius to the film. Sachin Tendulkar's biopic will release in theatres nationwide this Friday, May 26, 2017.
Image Credit: IMDb.com