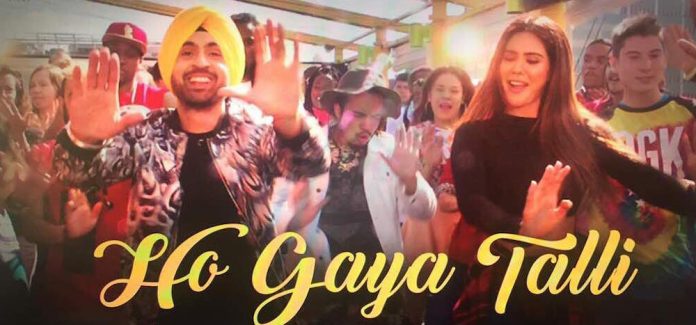 The next song of Diljit Dosanjh starrer, Super Singh released on May 28, 2017. Ho Gaya Talli stars Diljit Dosanjh in the lead and he can be seen dancing to the beats of the music in a disco! The song is a Punjabi hit and has been sung by Diljit himself.
In the song, we can see that Diljit walks in with the film's lead actress, Sonam Bajwa to a disco. But, he gets distracted and walks towards another girl. He flirts with the other girl which makes Sonam jealous. In the entire song, we see Diljit flirts getting flirtatious with the other girl. We can also see that Diljit proposes Sonam in the song and they both dance together, but in the end – it's all a dream sequence!
Music of Ho Gaya Talli have been composed by Jatinder Singh and he has done a great job of adding a tough Punjabi touch to it. Lyrics have been penned by Ranbir Singh while the song has been recorded in Diljit Dosanjh's voice at Ten stars Studios.
Other songs released from the upcoming movie include Hawa Vich and Kalliayan Kulliyan. The official movie trailer of Super Singh was released last month and has already become a huge hit amongst audiences with over 4 million views!
See official music video of Ho Gayi Talli starring Diljit Dosanjh and Sonam Bajwa from Super Singh –
Directed by Anurag Singh, Super Singh is slated to release on June 16, 2017. Stay tuned for more updates exclusively on Bollywood Garam!
Photo credits – Diljit Dosanjh official Instagram account