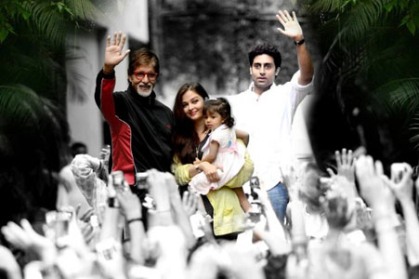 Bollywood superstar Amitabh Bachchan has maintained a trend for years and that means that on weekends, he comes out of his residence to meet his well-wishers and fans who eagerly await to catch a glimpse of him. On June 30, 2013, fans of the actor were in for a surprise, as little Aaradhya also turned up with mother Aishwarya Rai and father Abhishek Bachchan to greet the crowd.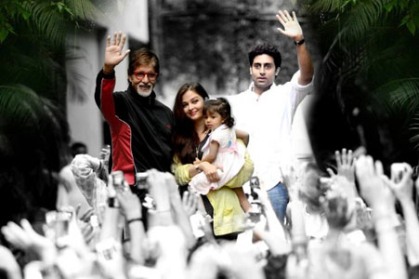 Sr. Bachchan was seen waving with a smile on his face, as he was pleasantly surprised to see the turnout outside his residence. Amitabh has been following this trend since he had an accident on the set of 'Coolie' in 1982 and since then, he has never missed a Sunday whenever he is in town.
This time, he was accompanied by daughter-in-law Aishwarya Rai and son Abhishek, as well as their daughter Aaradhya. Amitabh looked pleasant in a black and red tracksuit, while his granddaughter looked pretty in a pink frock.
Amitabh posted pictures on the social networking site Facebook and commented, "The Sunday well wishers had a bit of a surprise today… the little one came out too.." The actor added, "More crowds for the Sunday meet and a more bewildered Aaradhya ..!" Since the birth of Aradhya, the media has been constantly following the mother and baby.