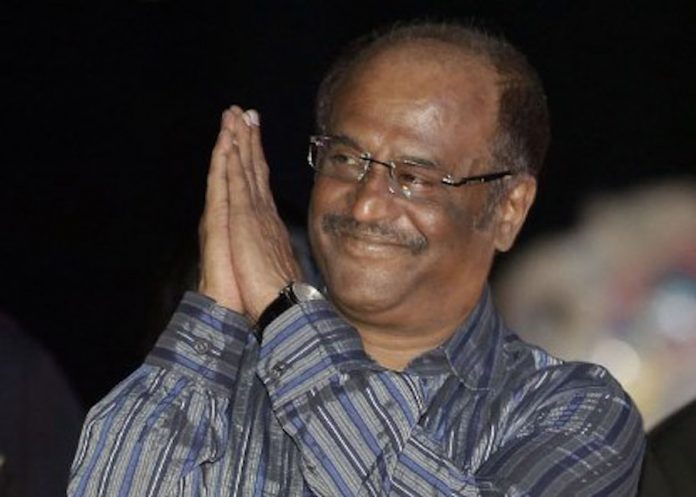 Rajinikanth who has been hinting on entering into politics is going to take advice from his close friend, Amitabh Bachchan regarding the same. Reports say that the friends are going to meet soon to discuss Rajinikanth's political plans.
Recently, a close source of Rajinikanth revealed to DNA, "He may be mildly tempted to get into active politics, but he won't. His family is dead against bringing politics into Rajini's career. They cite the example of Amitabh Bachchan, who to this day, regrets his sticky stint in politics. He wishes to think over the issue, talk about it and explore the possibility. Even though there is a lot of pressure on him to get into active politics from many quarters, he is no hurry to bite the bait. He will be meeting old friends whose judgment he trusts, including Bachchan Saab and discuss it with them."
The source also added, "His daughters won't allow him to do more than one film a year. For the first time in years, he shot two films simultaneously — 2.0 and Kabali. The stress took a toll on his health. So, I really don't know whether politics is what he wants to get into."
Last month, in an interview, Rajinikanth had told that he would choose the path of 'God willing'. He said, "God decides what we have to do in life at every phase. Right now, he wants me to be an actor and I'm fulfilling my responsibility. God willing, I will enter politics tomorrow. If I enter, I will be very truthful and will not entertain people who are in this to make money. I won't work with such people,"
Amitabh Bachchan had taken a break from Bollywood industry in 1984 and had entered politics to support his family friend, Rajiv Gandhi. He had contested for Allahabad's seat and won by the majority of votes. His political career was short and spanned just three years. He resigned because of the infamous Bofors Scam in 1987. Eventually was found not guilty and was relieved of all charges against him.
On the work front, Rajinikanth is currently working on his next blockbusters, Enthiran / Robot 2.0 which releases in January 2018 and Kaala Karikalan which also releases in summer 2018.
Picture Credits – Viral Bhayani