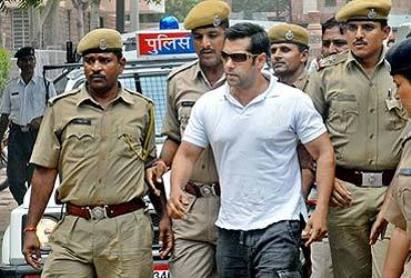 Bollywood actor Salman Khan has been ordered by a Mumbai sessions court to appear again on July 24, 2013, when he will have to face charges regarding the 2002 Mumbai hit-and-run case. Khan previously reached a court in order to face trial for culpable homicide not amounting to murder and not death by negligence in the same case.
The incident killed one person and injured four others. Now Salman will have to be tried under Section 304 (ii) of the Indian Penal Code (IPC) in Mumbai sessions court from Friday, July 19, 2013. If the 'Dabangg' actor is convicted, then he will have to face imprisonment of up to ten years.
Earlier, the actor was tried for a lesser offense under Section 304-A of the Indian Penal Code which has a maximum punishment of two years in jail. The case was being heard by a metropolitan court in Bandra and the case was recently shifted to a sessions court.
The actor had appealed against the order, but his plea was rejected by the court. Shankar Erande, Public Prosecutor, while opposing the plea said that the magistrate had rightly invoked charges of culpable homicide. He also argued that a police guard – who is now deceased – was accompanying the actor in the vehicle at the time of the accident and warned him not to drive too fast.