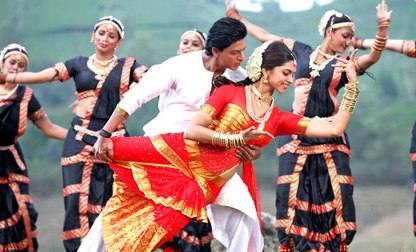 The latest song from Rohit Shetty's 'Chennai Express' has Shahrukh Khan and Deepika Padukone paying tribute to the South superstar Rajinikanth. In the video for the song, the two stars are seen wearing a 'lungi', which is a traditional outfit in the southern parts of India.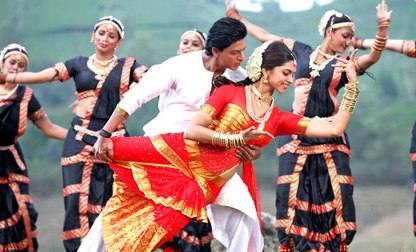 Shahrukh was apparently impressed with the Southern superstar's effortless style, due to which he wanted to pay a tribute to him. However, this is not the first time that Rajinikanth has been paid tribute by Shahrukh. Even in the movie 'Ra.One', Rajnikanth made a special appearance in a scene in which he plays the role of 'Chitti', who he played in the movie 'Robot'.
The song from 'Chennai Express' has been titled 'Thalaivar Tribute' (Lungi Dance) and is composed and performed by the controversial Honey Singh. Khan said that he could not avoid being a part of it, as he is a huge fan of Rajinikanth. Shahrukh said, "Who isn't a fan of 'The Rajinikanth'? The 'Ra.One' star revealed that he met Honey Singh and Bhushan Kumar five days ago and heard the song and found it very appropriate for Rajni Sir.
Later, his co-star Deepika Padukone was also roped in and the actress happily agreed to be a part of it.
Photo Credits: Indian Express