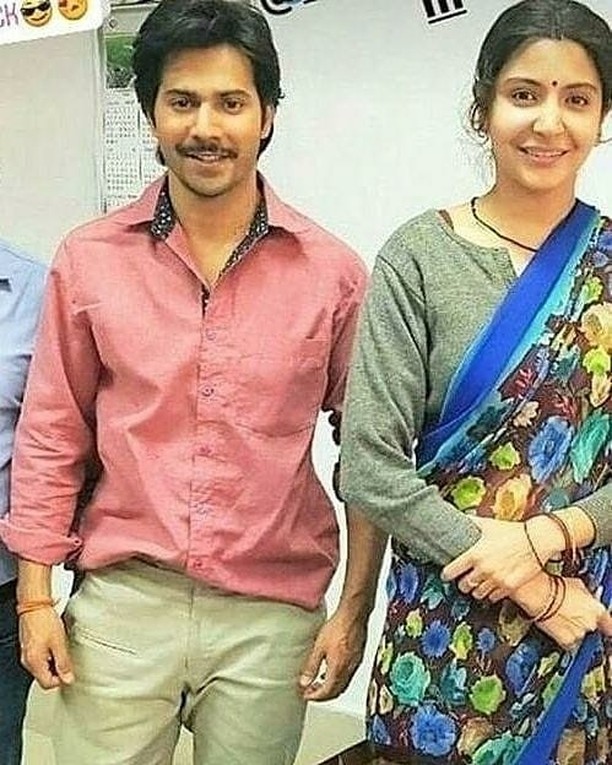 Makers of Sui Dhaaga – Made In India have for the first time paired Varun Dhawan and Anushka Sharma. Varun will be seen playing the role of Mauji a tailor while Anushka will be seen playing an embroider, Mamta. A new picture has surfaced online from the sets of the film which has shown Varun and Anushka in their characters.
Going by the picture, the two look like a perfect small town couple. Varun is seen sporting a pink shirt, trouser with a mustache while Anushka can be seen in a floral print sari with a sweater. Both the actors can be seen sporting a humble smile as they pose for a picture.
The story of Sui Dhaaga – Made In India is about celebrating the spirit of self reliance along with a beautiful love story between the lead characters played by Varun and Anushka. Varun had earlier spoke about the film and said, "From Gandhiji to Modiji, our leaders have always endorsed the mantra of Made in India. With Sui Dhaaga, I am proud to take their message to millions of movie lovers in a way that is entertaining and relevant. I really liked the script that Sharat (Katariya) had written and I am happy that I am teaming up with YRF on this one. Anushka and I are pairing up for the first time so I am sure there will be fireworks."
The film is directed by Sharat Kataria and produced by Maneesh Sharma and will be released in theatres on September 28, 2018.
Photo Credits: Instagram