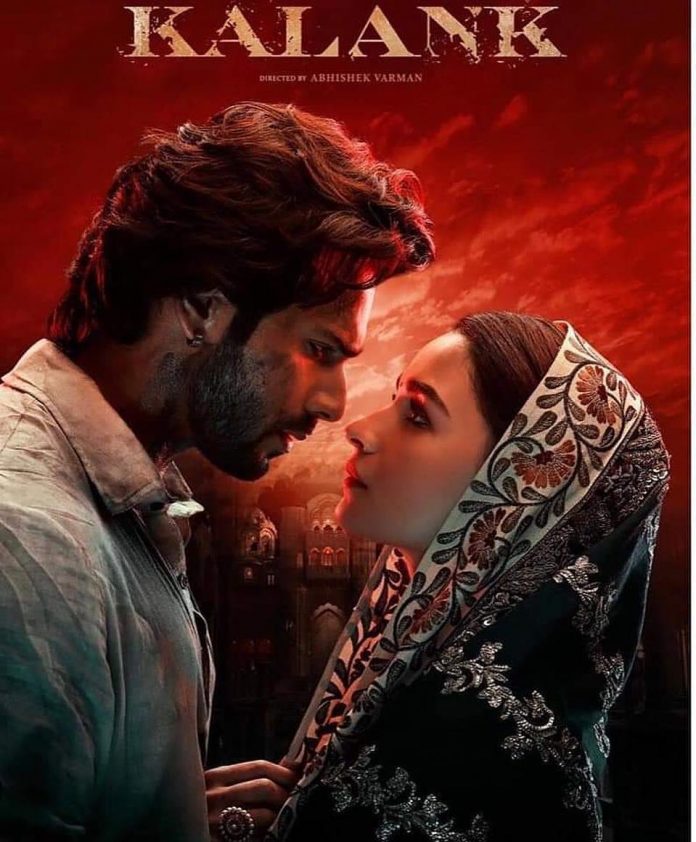 Movie Name: Kalank
Cast: Madhuri Dixit, Sanjay Dutt, Varun Dhawan, Alia Bhatt, Aditya Roy Kapur and Sonakshi Sinha
Director: Abhishek Varman
Genre: Period drama
Running Time: 166 minutes
Bollywood Garam Rating: 3.5/5 stars
Kalank was a mastermind that was earlier planned by Yash Johar but the film was then shelved and could not come up. Thanks to Karan Johar and his efforts that he has managed to put together a massive film that has opulent sets, intense emotions and visual flourishes. Abhishek Varman has made the best use of his actors through their respective characters and each of them have kept up to the expectations. A firm structure is what Abhishek has ensured.
The one that catches the attention is the production design by Amrita Mahal Nakai and offcourse the cinematography by Binod Pradhan. The story has many shades but is inter-related. Satya played by Sonakshi requests her childhood acquaintance Roop played by Alia Bhatt t provide companionship to her husband Dev played by Aditya Roy Kapur. Roop agrees on a condition that she would marry Dev. A depressed Roop finds interest in music and begins learning from madam of brothel Bahaar Begum played by Madhuri Dixit.
Zafar played by Varun Dhawan wants to revenge on his parents Bahaar and Balraj Chowdhary played by Sanjay Dutt, who had abandoned Zafar after Balraj ended his extramarital affair with Begum, by seducing Roop. The story goes on, on a steady pace and the audience get closer to the characters as the story proceeds. Madhuri is at her delicate and graceful best while Sanjay Dutt has done ample justice to his character. Alia and Varun have grabbed all the attention of the audience with their performance and presence on screen. Sonakshi's presence was limited but managed to grab ample attention. At times, the film might seem a little stretchy but is surely a visual treat. Kalank celebrates the transformative power of love and reconciliation during testing times. The film is a must watch not for just what it says but also for how it says.
Photo Credits: Instagram