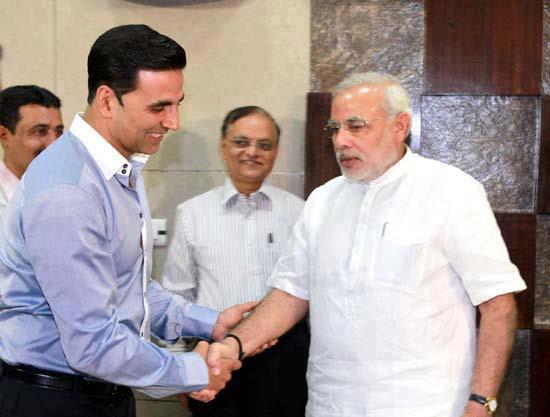 A very non-political interview conducted by Bollywood star Akshay Kumar with Indian prime Minister Narendra Modi was aired on April 24, 2019. The actor started off on April 21, 2019 by posting a cryptic Tweet that left his fans confused and also sparked intense speculations. Akshay tweeted, "Getting into an unknown and uncharted territory today. Doing something I have never done before. Excited and nervous both. Stay tuned for updates."
Many had speculated that Akshay Kumar had decided to take a political plunge similar to his former co-star Urmila Matondkar, who recently joined Congress and marked her entry in politics a few weeks back. However, Akshay was just teasing his fans about an upcoming video interaction that he had conducted with PM Narendra Modi at the Prime Minister's residence at 7 Lok Kalyan Marg.
The one hour long conversation was conducted with a complete non-political theme while delving in to the life of Narendra Modi as a Prime Minister. The video was aired on April 24, 2019 a day after the third phase of the Lok Sabha polls concluded. Reports say that the video was deliberately released later as they did not want any contravention of the EC (election Commission) guidelines.
A total of four short teasers were released that had showed the side of PM Narendra Modi far removed from the campaign rallies and TV interviews that dominated the currently political scenario.
Photo Credits: Facebook