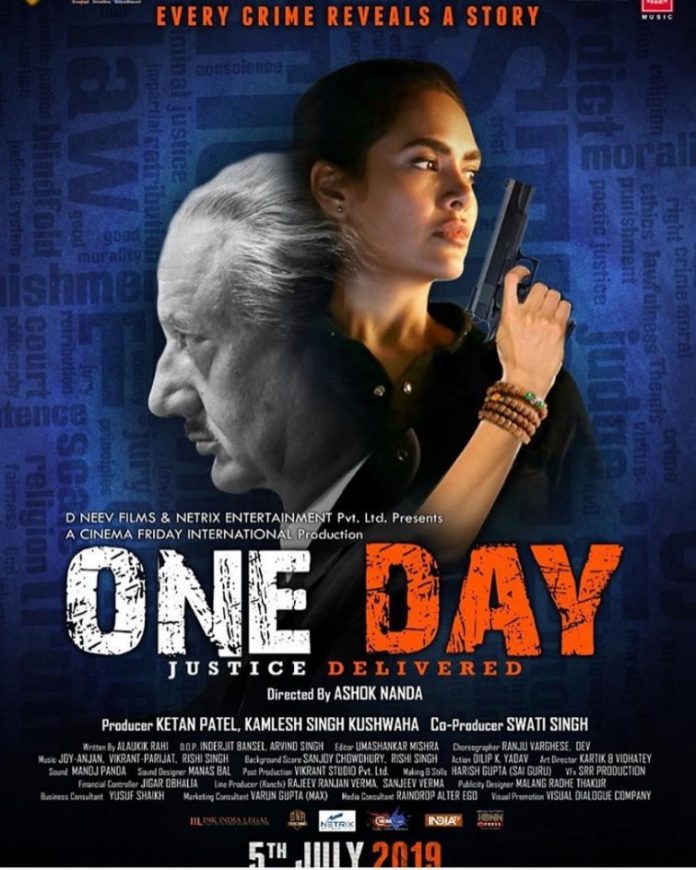 Movie name: One Day: Justice Delivered
Cast: Anupam Kher, Kumud Mishra, Esha Gupta, Anusmriti Sarkar and Zakir Hussain,
Director: Ashok Nanda
Genre: Action thriller
Running time: 124 minutes
Bollywood Garam Rating: 2/5 stars
One Day: Justice Delivered is a story about a retired judge played by Anupam Kher , who is forced to take the law in his hands to ensure that the justice is served. Esha Gupta played the role of SCP Laxmi Rathi, who is determined to solve a mystery of some missing people on her own. Judge Tyagi has retired and has turned vigilant after retirement and wants to punish all the culprits who were walking free on the streets due to lack of evidence against them.
The judge was bound by law to give judgments on some of the cases that he felt were unfair. One particular incident had shaken him from inside and that is when he decides to take matters in his hands and embarks on a mission to extract confessions from all the criminals. The above story seems to be quite interesting but director Ashok Nanda has failed to give it a proper execution, especially in the beginning. But somehow the second half picks up pace and become interesting to watch.
Experienced actor Anupam Kher has done phenomenally well with his character while Esha has also done well with her character of a tough cop. If at all something lacks is her Haryanvi accent that seems to be mismatching or was not convincing enough. Music in the film is not so touching as none of them go well with the story line. Only the title track One Day seems good as it has Usha Uthup in her element.
One Day: Justice Delivered begins as a good thriller but ends up being an average. Thrillers have to be always handled with care or it can easily turn in to disappointment when it fails to satisfy the audience.
Photo Credits: Instagram