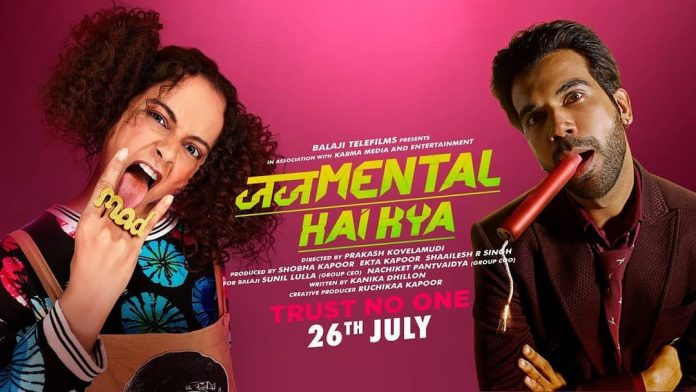 Movie Name: Judgemental Hai Kya
Cast: Kangana Ranaut, Rajkummar Rao and Jimmy Shergill
Director: Prakash Kovelamudi
Genre: psychological black comedy
Running time: 116 minutes
Bollywood Garam rating – 3.5/5 stars
After going through many controversies, the film Judgemental Hai Kya has been released in theatres on July 26, 2019. The film is about a girl named Bobby played by Kangana Ranaut, who is an aspiring actress and a Hindi dubbing artist for B Grade South Indian films. Due to an untoward incident in the past as a child, she leads a troubled life and lives in her own world. Due to this people around her people around her judge her as mentally unstable. Her life changes, when she rents out a part of her house to Reema played by Amyra Dastur and her husband Keshav played by Rajkummar Rao.
Kangana's character becomes obsessed with Keshav and starts stalking him. But one day Reema dies of a supposed fire accident. Technically the film is excellent in terms of its cinematography, sound design and production design. Prakash Kovelamudi, in terms of his first Hindi attempt has done excellently well. The first half goes well, but starts declining in the second half. However, by that time, it leaves an interesting storyline for the audience to hold on.
Talking about the performance, Kangana is undoubtedly at her best and she has owned the film. Her character is complex and Judgemental Hai Kya would not have been complete without her presence. Rajkummar Rao has made a mark in his earlier films, but this one can disappoint the audience, especially his fans. The trailers are misleading while telling that the story is about Bobby and Keshav, but the fact is that the film is all about Bobby. Rajkummar has got less exposure and less screen time as well. But he has surely made the most of it. Overall, a predictable story and some great narration makes a great entertainer.
Photo Credits: Instagram