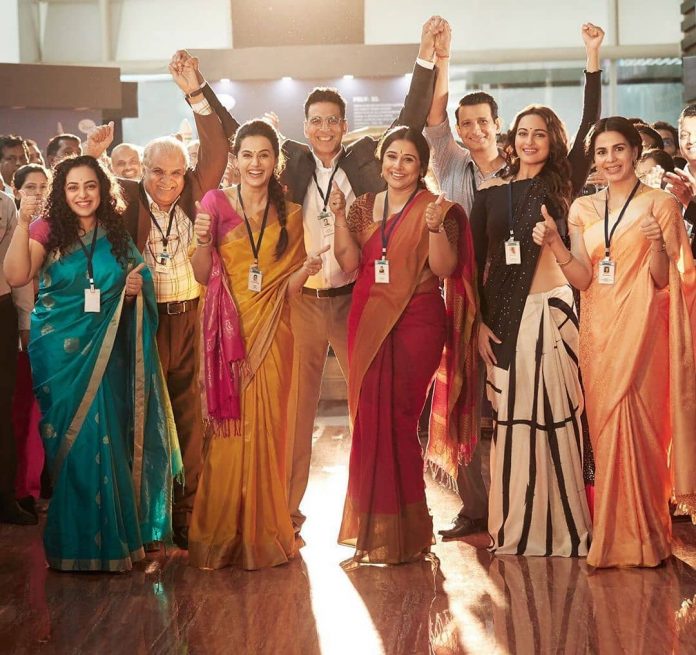 Movie Name: Mission Mangal
Cast: Akshay Kumar, Vidya Balan, Nithya Menon, Sonakshi Sinha, Taapsee Pannu, Kirti Kulhari, Sharman Joshi and Sanjay Kapoor
Director: Jagan Shakti
Genre: Drama
Running Time: 127 minutes
Bollywood Garam Rating: 4/5 stars
The film has taken inspirations from the project Mangalyaan by ISRO Mars program that was launched in 2013 and features roles of scientists that were mostly women, behind the ambitious endeavor. The mission was surely a moment of pride as India became the first country to crack a Mars Mission in its first attempt at a budget of roughly Rs. 454 crores, which is a fraction of the cost of other International space missions.
Since the film is all about science, facts, physics and scientists, there is no space for emotions. There are some genuine moments in the film that will make you laugh and also a few that will make you feel sad. The makers have successfully delivered an entertainer despite the subject being a complicated one. Akshay Kumar plays the role of Rakesh Dhawan, who is the head of the mission and a scientist who has dedicated his life to ISRO with no time for distractions like love or family. After a failed mission, he is demoted to a Mars program with the hope that he will take the hint and quit.
The film also has Tara Shinde, played by Vidya Balan and comes up with the idea of chasing Mars with a low-cost rocket and satellite. Here is when Dalip Tahil who plays Rupert Desai, the negative man in the film, deploys a bunch of juniors against the best man in an impossible project. Akshay has done a great job as the leader and has brought out the best in terms of humour and performance. Sound acting performance is also delivered from other actors particularly Taapsee and Nithya. However, Vidya truly stands out who plays a passionate scientist with full commitment.
Overall, Mission Mangal is entertaining as well as enjoyable.
Photo Credits: Instagram