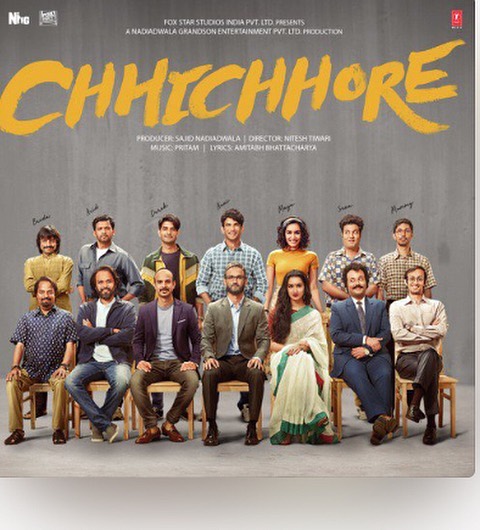 Movie Name: Chhichhore
Cast: Sushant Singh Rajput, Shraddha Kapoor and Varun Sharma.
Director: Nitesh Tiwari
Genre: Comedy Drama
Running Time: 143 minutes
Bollywood Garam Rating: 3 out of 5 stars
College days are those which are cherished the most as this is the time when students experience the best time of independence with friends, midnight outings, midnight cravings and hostel life. Many people experience nostalgia when you meet a group of carefree college students as time moves on to one direction. The director has presented Chhichhore that will remind each one of us of our college days and the time that we spent. College drama has always worked with the audience of every generation and is touted to be the safest bet in filmmaking.
The film begins with Sushant Singh Rajput who plays Anirudh who faces a tragedy after failing to secure a seat in India's top engineering college unlike his parents, who were rank holders. Like the college trend goes, different characters have different AKA names like Varun Sharma is called Sexa, Tahir Raj Bhasin as Derek, Naveen Polishetty as Acid, Tushar Pandey as Mummy and Saharsh Shukla and Bevda.
Anirudh and Maya played by Shraddha Kapoor go in to flash back and narrate their college story to their son. Sushant's performance as a middle-aged father is unsatisfactory while Shraddha as a mother is not so convincing either. Moreover, the story has limited Shraddha's character to just being a pretty face. Varun Sharma, like always has performed at his best as he has got enough experience on playing a college student character. Some of the scenes will manage to crack the audience, but there are also some that do not make much sense.
Chhichhore has delivered the message on exam pressure, but with the Dangal director, things could have been a little better. Tiwari had a subject that could appeal to all generations, but has failed to create the magic. The film is a one-time watch for those who want to enjoy come college drama.
Photo Credits: Instagram