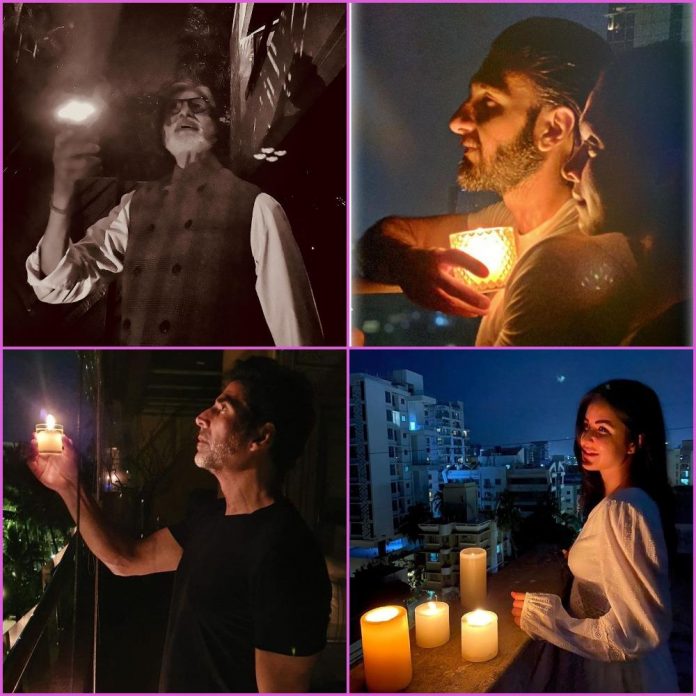 While the nation continues its fight against coronavirus, Prime Minister Narendra Modi had come up with another ritual of lighting lamps at homes for 9 minutes while switching off the lights at home on April 5, 2020. After the success of the Janta Curfew, the nation once again cooperated for the #9PM for 9 Minutes cause and lighted lamps to show unity against their fight against the virus. Celebrities from Bollywood posted their pictures while showing their respective contribution and participation.
The social network were flooded with pictures of people and celebrities lighting lamps, candles, torch lights and mobile torch lights for nine minutes on April 5, 2020. Ranveer Singh, Deepika padukone, Alia Bhatt, Ranbir Kapoor, Akshay Kumar, Aishwarya Rai, Abhishek Bachchan, Amitabh Bachchan, Tamannah Bhatia, Ananya Pandey, Janhavi Kapoor, Rajinikanth, Anushka Sharma,Virat Kohli, Hina Khan, Sonam Kapoor, Kangana Ranaut, Katrina Kaif and many others lighted lamps in their own ways and showed their support to show unity in the fight against coronavirus.
Earlier Mr. Modi had requested the citizens of India to observe the Janta Curfew that marked a lockdown of about 48 hours. The Janta Curfew also urged people to show appreciation towards the frontline workers fighting against the virus by giving an applause at 5 PM on March 22, 2020.
However, at a few places, people landed up mobbing on the streets and bursting crackers, that violated social distancing.
Photo Credits: Official Instagram pages of Akshay Kumar, Amitabh Bachchan, Katrina Kaif and Ranveer Singh