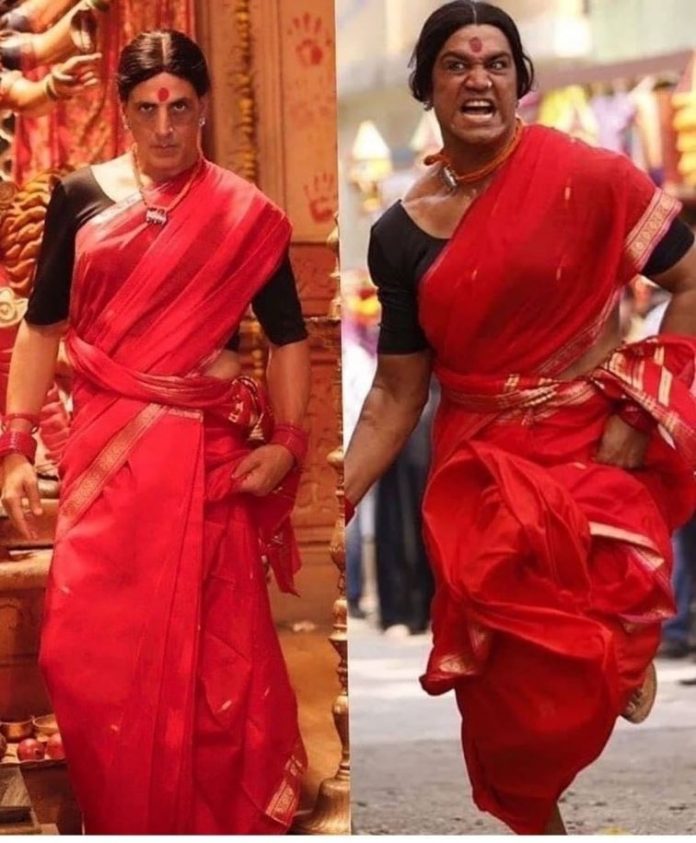 Movie Name: Laxmii
Cast: Akshay Kumar, Kiara Advani, Sharad Kelkar, Rajesh Sharma and Ayesha Raza Mishra
Director: Raghava Lawrence
Genre: Horror comedy
Running time: 141 minutes
Bollywood Garam Rating: 4/5 stars
The much awaited Hindi remake of the South film Kanchana, Laxmii has been released on the popular OTT platform Disney+Hotstar. The fans were eagerly waiting to see Akshay Kumar playing the role of a transgender and he has truly managed to keep up with the expectations of the audience.
The story of the film begins with an empty plot that the neighbors are aware that it is haunted and avoid going there or even look at that place. Akshay Kumar who plays Asif, is married to Kiara Advani who plays Rashmi. Asif is a person who helps to create awareness among people against ghosts and spirits but ends up being possessed himself by a transgender woman named Laxmii.
The story takes a different turn when Asif and his family comes to know about the intentions of Laxmii, who was murdered by some goons from construction sector. It seemed like Akshay did his homework before he actually shot the film. Akshay in terms of his stance and the way a transgender talks, walks and turns around is impeccable. Kiara is the eye candy and does not have much to contribute to the film except for the song Burj Khalifa.
Another actor who needs a special attention is Sharad Kelkar, who plays the transgender Laxmii. It is certainly not easy for a man to perform as a transgender and his character of Laxmii was intense and deep. Supporting cast Rajesh Sharma, Ashwini Kalsekar and Ayesha Raza have done their portions well and deserve an applause as well for their contribution. There are a few moments where the film manages to grip the audience with fear and also a few moments that make the audience crack up.
It is a 4 star for Laxmii from Bollywood Garam purely for the exceptional performance and efforts put in by Akshay Kumar and Sharad Kelkar for playing transgenders.
Photo Credits: Laxmi Bomb official Instagram account