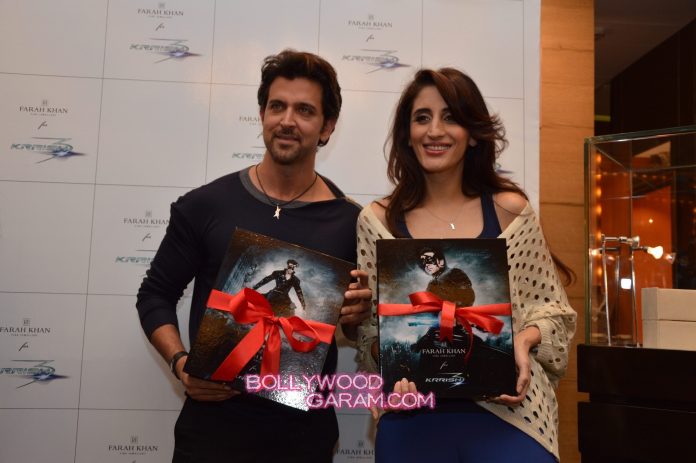 BollywoodGaram.com: Bollywood superstar Hrithik Roshan and Farah Khan Fine Jewellery have teamed up to create an exclusive line of jewellery for the upcoming, highly-anticipated movie 'Krrish 3'. Khan and the 'Kites' actor launched the special edition Farah Khan for Krrish 3 collection at Farah Khan Fine Jewellery Store at Turner Road in Mumbai on October 5, 2013.
The limited range features accessories including chains, bands, mobile charms, pendants, pins and power masks, which are all Krrish 3-themed. The new collection has been priced between Rs. 2,500 and Rs. 6,000. At the event, Roshan said that Krrish is a symbol of courage, power, strength and harmony. He also stated that it is not just about the cape or the mask, but about a mental stance, which means that anyone can be a superhero, once we recognize the values Krrish lives by, we can live like that as well.
Farah, while talking about the collaborations said, "The motivation behind it was Hrithik, who himself has over come his personal obstacles to be a public figure and inspire people to achieve success irrespective of hurdles." The designer went on to say that her designs have always reflected a deeper thought and this time it is no different.
Farah also said that they want people to wear these jewelry items in order to give them strength and to give them the courage to do the right thing.