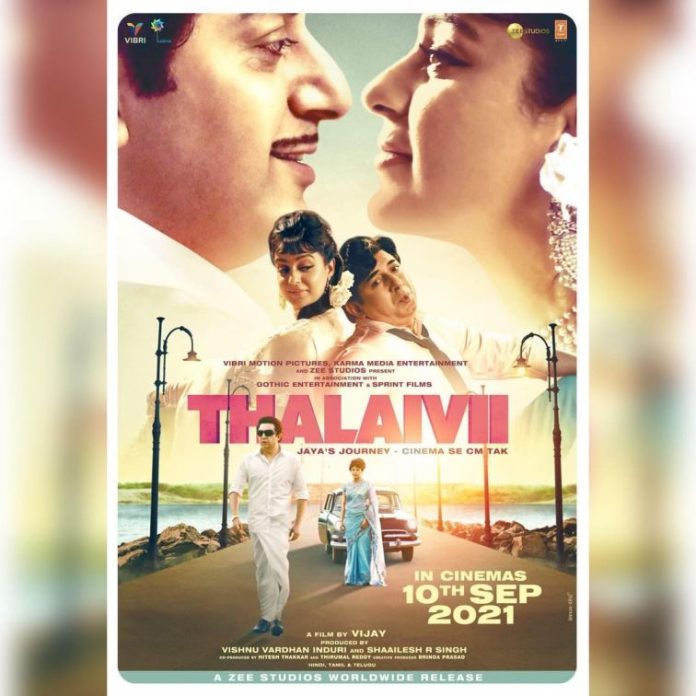 The much awaited film Thalaivii starring Kangana Ranaut and Arvind Swami is all set to be released on September 10, 2021. While the date has been set for a theatrical release in three languages Hindi, Tamil and Telugu, confusion continues to remain if the makers would release the film on an OTT Platform. There has been an argument between the makers and the exhibitors that the film should be given a four week window before it is released on an OTT Platform or the theatre and multiplex owners would lose on revenue.
The makers decided that the Hindi version would have a two week window while the Tamil and Telugu version would have a four week window. While the theatre exhibitors were happy that the Tamil and Telugu versions have a four week window, they have demanded that all the languages including Hindi should have the same window.
The theatre owners opine that the audience continues to remain hesitant to go to the theatres due to the pandemic, so they would opt to wait for two weeks and watch the film on the OTT platform. This would result in a loss for the theatre owners.
Kangana Ranaut released a statement that said that the producers have decided to stand by the theatre owners and have rejected a number of exclusive streaming offers for Thalaivii. The actress added that if the theatre owners don't screen the film, they would watch on single screens and later on OTT Platforms.
Photo Credits: Pixabay