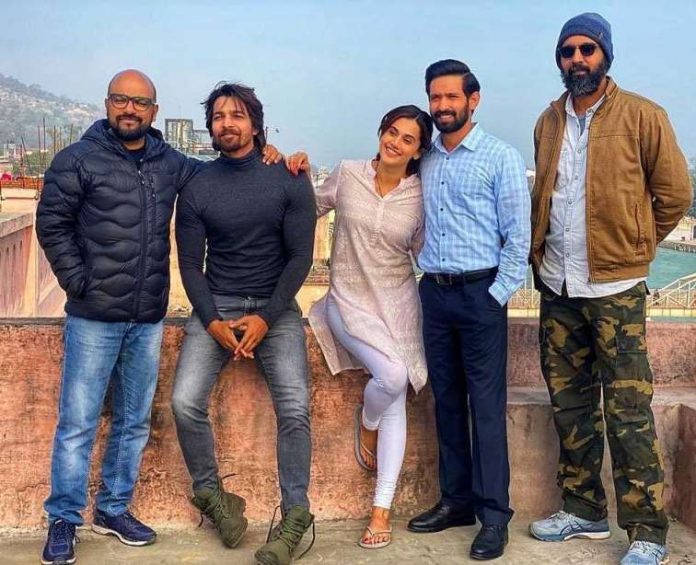 Movie Name: Haseen Dillruba
Cast: Taapsee Pannu, Vikrant Massey, Harshvardhan Rane and Aditya Shrivastav
Director: Vinil Mathew
Running Time: 136 minutes
Bollywood Garam Rating: 4.5/5 stars
Haseen Dillruba is certainly the gorgeous Taapsee Pannu while Vikrant plays the role of a shy middle class boy from a small town called Jwalapur. Vikrant, who plays Rishu gets married to Delhi girl Rani played by Taapsee, who plays an outgoing character and does not know anything about household chores. While Rishu is charmed by Rani, differences start to loom over their arranged marriage.
But none of them are ready to give up and try their best. This is when Rishu's cousin Neel steps and wooes Rani, who is already dealing with an unhappy marriage. Both fall in love but Rishu along with people in the locality come to know about the illicit affair between Rani and Neel. The story begins with Rishu's death in a fire accident, and the entire film is narrated by Rani, while she is being interrogated by the police, who suspect that Rani has actually killed her husband, who loved her unconditionally.
But how did Rishu actually die and where did Neel vanish continues to remain the mystery. There is a bit of everything in the film includes suspense, mystery, comedy, drama and an amazing chemistry between Vikrant and Taapsee. While Taapsee plays the eye candy, the performance of Vikrant is the actual star. Harshwardhan's beefed up look is to look forward to. His role is short but is meaningful. The performances from every character in the flick contribute to make it a great suspense that uncovers.
The script of Haseen Dillruba remains an unpredictable mystery from the beginning and ends up with a very unexpected and a shocking climax. Such stories from Bollywood have become rare and the performances by the actors have made it worth a watch. The film was released on Netflix on July 2, 2021.
Photo Credits: Haseen Dillruba official Instagram account