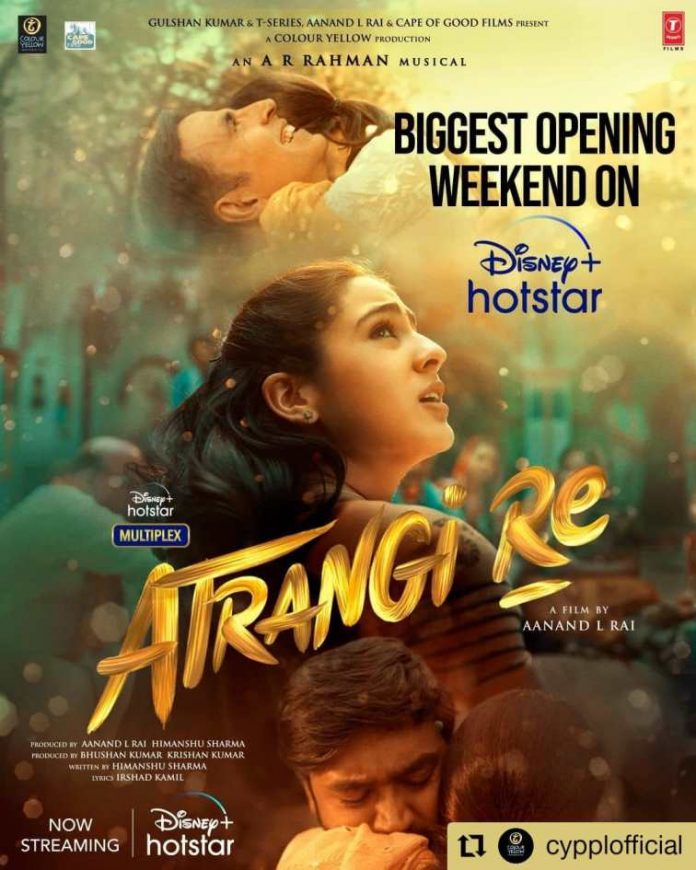 Having a south-film industry superstar and a Bollywood superstar sharing the screen space indeed comes with plenty of entertainment. Director Aanand L. Rai has put together great entertainer with Atrangi Re for the audience with Akshay Kumar, Dhanush and Sara Ali Khan in the lead. The story is about a young girl from Bihar, Rinku played by Sara and a south-Indian Tamil boy Vishu played by Dhanush, who are forcefully married to each other against their wishes.
Rinku is head over heels in love with Sajjad Ali Khan, while Dhanush stars falling for the girl he was forcefully married to. But soon one Vishu's close friend Madhusudan played by Ashish Verma, who is a psychiatrist, finds out that Rinku is in love with Sajjad who is not a person in real but her imaginary boyfriend. This is when the actual drama and entertainment begins when Vishu tries his best to win Rinku.
Being a south Indian superstar, the Hindi dialect spoken by a Tamil by came naturally, but apart from that he managed to steal the show completely. Just like his films down south, he has also done his best charming the general audience. Akshay, as usual is at his natural best playing a magician. The moments when he constantly gets hurt when Rinku is under treatment for her psychosis are hilarious. Sara Ali Khan is a surprise package with her performance and has once again proved that she is here to stay in the industry and remain a part of mainstream cinema. The music from the Academy award winner A.R.Rahman for the songs has given a fresh feel to the theme.
Dhanush has earlier entertained Bollywood audience with the film Raanjhana which also starred Sonam Kapoor. While the plot and character of the film was completely different, he has reclaimed a place in the audience's hearts to shout out loud that he can be a promising actor in Bollywood as well. To conclude it, Atrangi Re is a complete entertainer that will make you laugh, cry and dance with some of the best performers from the industry.
Photo Credits: Atrangi Re Official Instagram account