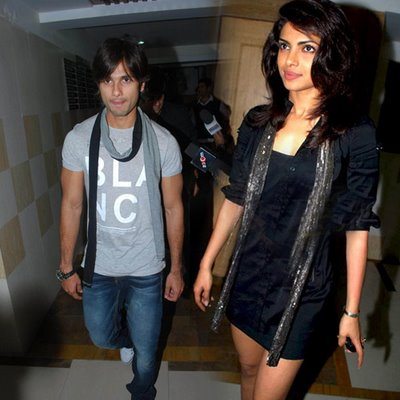 Is there anything really cooking up in Priyanka Chopra and Shahid Kapur's lives? A few days ago it was reported that they would not be able to celebrate the new year's eve together as the lady would be welcome the new year with her family, whereas, Shahid would be shooting for his father's film 'Mausam' in Chandigarh.
But recently, a Mumbai daily reported that they were seen together in Goa with Priyanka and her family. It is said that that Shahid took two days leave from the sets of Mausam to be with the actress.
The source said, "Priyanka has come to Chandigarh twice. On December 30, Shahid flew to Goa to bring in the New Year with Priyanka and her family. He actually missed his flight to Goa via Mumbai, so he caught another one from Chandigarh via Delhi to Goa."
None of them is accepting a relation as yet but they both have been spotted together many a times in the past and still continue to do so. The sources also informed that they have a signed Kunal Kohli's next project.
Source: HT