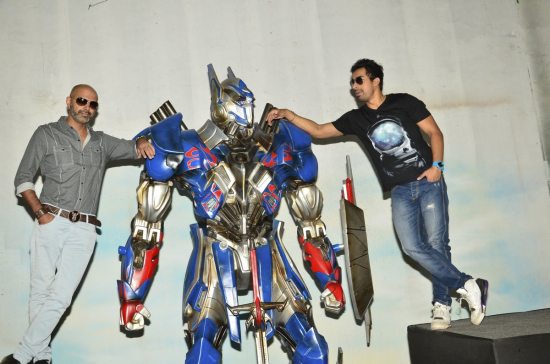 Bollywood's Ashmit Patel and VJ Ranvijay pose with mean machine Optimus Prime to promote Transformers.
VJ Ranvijay of the Roadies fame along with his partner in crime Rajiv and actor Ashmit Patel posed with an Optimus Prime model at Mehboob Studios in Mumbai on June 11, 2014.
The actors were promoting the famous 'Transformers' movie series.
Speaking to the media at the event, Roadies producer Rajiv said that Transformers is every boy's dream come true, "Big robots running across town and breaking things."
While the sexy Ranvijay said that its not only about robots, but it's also about the story and the comedy that the films have in them.
Ranvijay has been the heartthrob of female fans across the country, he will now be seen hosting MTV's flagship show Splitsvilla season 7.