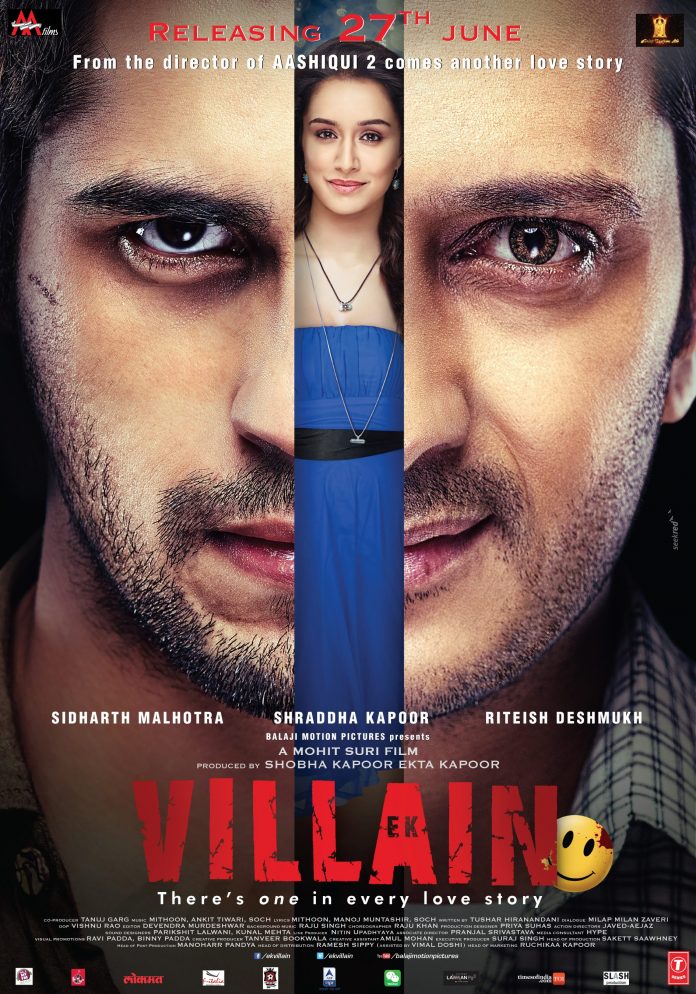 Movie Name: Ek Villain
Cast: Riteish Deshmukh, Siddharth Malhotra, Shraddha Kapoor, Remo Fernandes and Aamna Sharif
Director: Mohit Suri
Genre: Romantic Thriller
Release Date: June 27, 2014
Run Time: 130 minutes
Bollywood Garam Rating: 3/5 stars
Mohit Suri's much-awaited Ek Villain finally hit theaters on June 27, 2014 and we must say that it was worth a weekend treat.
Bollywood heartthrob Sidharth Malhotra plays the brooding bad guy – Guru- who is forced to take up a gun at a young and tender age. Aisha (Shraddha Kapoor)  is the typical vivacious chatter box who manages to pierce through Guru's (Malhotra) stoic exterior and transforms him through the power of love – heart-warming, but typical!
The movie's title would obviously be out of place if Malhotra and Shraddha's romance was all that there was to the film, actor Ritiesh Deshmukh's character – Rakesh Mahadkar – is the film's eponymous villain. Rakesh (Mahadkar) is a part of the city's typical lower-middle-class populace, frustrated by life's circumstances – mainly by his nagging wife played by Aamna Sharif – he collects inside him burning frustration and misogyny which ultimately manifests through his murderous acts.
The gory slash murders, gruesomely mauled female bodies and Rakesh's (Ritiesh) serial killer trademark weapon of assault – a screw driver – all bear heavy resemblance to the 2010 Korean cult thriller ' I Saw The Devil'.
The main premise of the plot is developed when Sidharth and Shraddha's romance is interwoven with Riteish Deshmukh's sinister intentions, both these narratives are played out in the typical flashback-to-present-day scenario. Director Mohit Suri does a decently good job at holding the audiences' attention for more than brief periods of time.
However, the flaws that take away from what could have other wise been a nail-biting thriller from start to end are; the predictable twists and turns, the absence of logical explanations to events and moments of utter disbelief (characteristic to Bollywood suspense drama aiming at sophisticated action).
Sidharth Malhotra, Shraddha Kapoor and Riteish Deshmukh's individual performances are what saved Suri's otherwise wobbly plot. Sharaddha, even though she doesn't have much to do in the film apart from being Sidharth's cheery love interest – whose specific illness by the way is never clearly defined – does manage to make audiences laugh with her light-hearted humor.  Sidharth Malotra, who audiences – especially the female fan following – were eager to watch shedding his chocolate boy avatar, was convincing for brief periods, however, the handsome Delhi boy has innocence so ingrained in his face, that the bad guy aura doesn't really sink into him.
It is actor Riteish Deshmukh who manages to surprise all, with his convincing performance as the frustrated low-level MTNL employee who seems like the harmless kinds, as well as the misogynistic cold-blooded killer, Deshmukh delivers both the roles precisely and outshines the lead pair in the process.
The warm chemistry between Sidharth and Shraddha interspersed with thriller tactics, blood and gore does qualify Ek Villain as a more than watchable film. Also, the film's music is noteworthy, though, more than often at odds with the 'thriller' feel that the film aims to enrapture audiences with.
All in all, Bollywood Garam gives a more than average rating to Ek Villain – 3 stars.