Bollywood Garam: The model who had once become a sensation after she proclaimed her desire to strip for the Indian Cricket team, has spoken again. Though her earlier attempts to inspire the Indian team could not materialize, the small-time Indian model has now decided to keep her promise to partially strip for the team.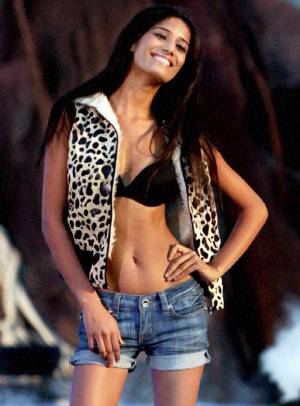 After the shameful defeat of the Indian cricket team at the recent test series, Pandey said that the team needs to be inspired. Poonam has stated that she will soon be revealing the suspense of her partial promise.
The young model took a micro-blogging site to announce that she wants to inspire the men in blue. Poonam said that she wants them to win the ODIs and prove to the world that they are still the number one team.
Pandey added that an inspiration is on the way, she loves her country and wants her team to be on the top always. Poonam has always said that she is a die hard team of the Indian cricket team and wants to motivate them at the moment when they need one to perform well. The model who was once unknown, had shot to fame after she had claimed to strip for the Indian cricket team if they brought home the World Cup.
Her only claim to fame has been her unfulfilled promise to strip naked. We wonder if she will actually live up to her promise or will it just be another attempt to revive her non-existent career.