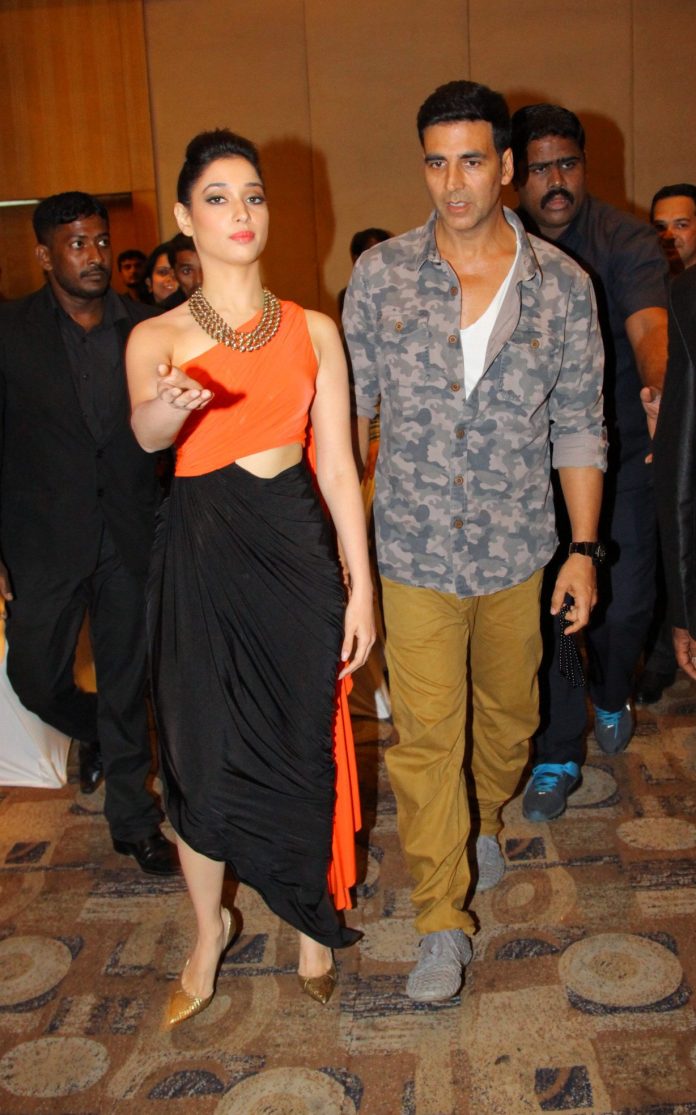 Akshay Kumar and Tamannaah Bhatia promote Entertainment with dogs.
Lead actors of 'Entertainment' Akshay Kumar and Tamannaah Bhatia walked the ramp with some adorable dogs at a press conference held in Bangalore on August 5, 2014. Entertainment is all set to release on August 8 and the team is in overdrive mode promoting the film on all platforms possible.
Tamannaah looked drop dead gorgeous in a black, orange and gold ensemble. Akshay's swagger on the ramp had onlookers going gaga, not only did khiladi kumar don a ultra stylish look, but looked completely at ease with the adorable Golden Retrievers he shared the ramp with.
Reports say that actress Tamannaah too adopted a dog after she worked with Junior, on the sets of 'Entertainment'. Akshay himself is fond of dogs and already has two at home.
The 'Khiladi' actor in an interview had said that it is important for children to grow in the presence of a dog at home as they learn to give unconditional love.
'Entertainment' will hit theaters on August 8, 2014, well, lets hope that the film stays true to its name and actually entertains audiences.
The comedy flick also stars Mithun Chakraborthy, Johnny Lever and Prakash Raj.