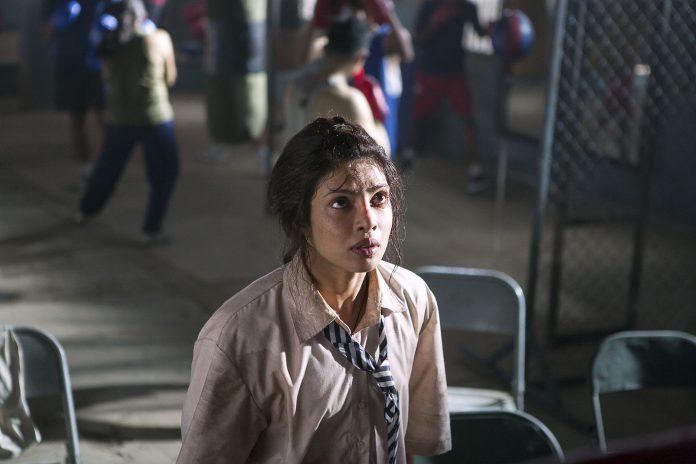 A few punches short of greatness, Mary Kom could have been brilliant.
Movie Name: Mary Kom
Cast: Priyanka Chopra, Darshan Kumar, Robin Das, Sunil Thapa
Director: Omung Kumar
Genre: Biopic / Drama
Release Date: September 5, 2014
Run Time: 122 minutes
Bollywood Garam Rating: 3.5/5 stars.
Bollywood and biopic are two words that rarely mingle, but when they do, it is interesting to see what results on celluloid. Starring Priyanka Chopra, the much awaited Mary Kom released on September 5, 2014.
The film is a fictionalized account based on the life of ace Indian boxing star M.C. Mary Kom. A lot of the film is shot in the scenic locales of Manipur, lending to the authentic character of the film, however, by the very virtue of it being a "Bollywood biopic", there are quick shifts in the film's believability.
Priyanka effectively sinks into the skin of Mary Kom the boxer, her determination, grit and passion are all traits that are effectively portrayed on screen. In the scene where she throws a chair at the judges because of an unfair decision, we feel the woman's angst and frustration.
Directed by debutant Omung Kumar, Mary Kom tries to encapsulate ace Indian boxer M.C. Mary Kom's entire boxing career – spanning over two decades – in roughly two hours of screen time and it is here that the fault lies.
The film's opening scene shows Priyanka Chopra in labour pain while a curfew in Manipur has just been announced, husband Onler (Darshan Kumar) is struggling to find help for his wife, when the two are finally aided by officials, Priyanka is en route to the hospital in a van.
On the way, their van is stopped by armed rebel men who ultimately let go after looking at Mary's heavily pregnant condition; the moment you are inclined to believe in the humanity of the men with guns, a dialogue by one of the men – "yeh pata hai kaun hai, boxer Mary Kom, 45 seconds, aaj bhi dum hai" – makes you want to cringe in your seat and say, really!
During the first 45 minutes of the film, we see half of Mary Kom's life covered, from a young and angry girl hailing from a rice farmer's home in Manipur to a boxing champion achieving feats for her country, it is all rushed through like a child wanting to get done with his last examination!
Throughout the film, there are sporadic moments where biopic-like scenes shine through; Mary's unbreakable determination to get noticed by Coachsir (Sunil Thapa), her travel journey from home to the training center, are all moments when you slowly start to sink into the Mary Kom feel, but once again, the hurried pace at which the first half is dealt with, makes it extremely difficult for the viewer to completely immerse himself/herself into any scene. The moment you begin to fathom a particular scene, the next one is jumped to.
However, the film does have some memorable scenes like the one where Priyanka feeds one of her twins twice as she can't distinguish between the infants, also, the cheeky banter between her and her husband is quite poignant.
Overall, the film about a 5 time world boxing champion who fights her way through several odd's – family, society, ethnicity – could have been dealt with more patiently and carefully. Everything about the film had a half-baked quality to it. The filmmakers tried to touch upon many aspects, but in the end, it turned out to be falling short of greatness.
The one thing that shone throughout the film was Priyanka's stellar performance, her not looking like Mary Kom was the least of our concerns here, the sheer amount of physical training that Priyanka had undergone was clearly visible on screen. Despite the fact that her character lacked depth and could have been more etched out, Priyanka does a superlative job as Magnificent Mary – "a women of strength".
Fun trivia about the film; Priyanka's three hour work out schedule was post 15 hours of daily shoot, to give Priyanka's bridal look in the film some true authenticity, the filmmakers altered Mary Kom's real life bridal gown to fit Piyanka's frame. It is these subtle touches in the film that make it worth a watch.
Bollywood Garam gives this drama a 3 and half stars out of 5.