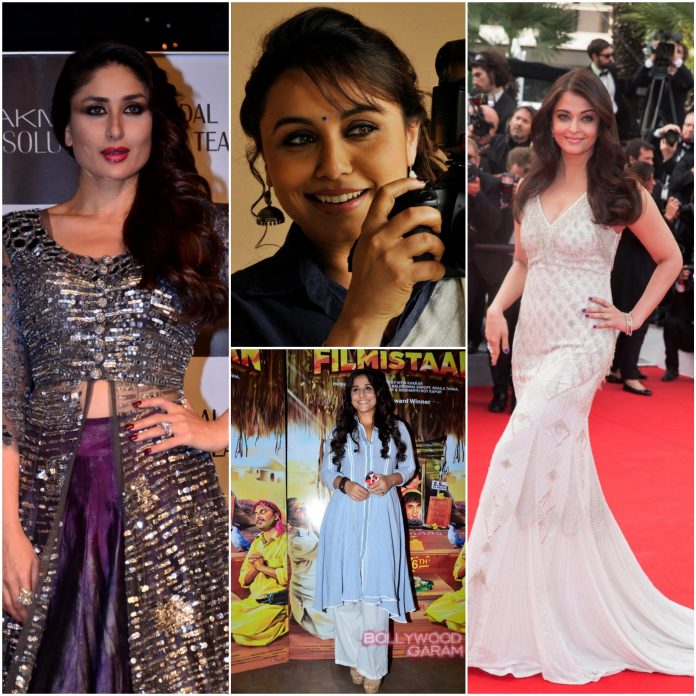 They might have tied the knot, but these married Bollywood actresses still remain on the top rung of Bollywood. 
Did someone say glass ceiling? Well, these Bollywood actresses haven't quite heard of that term! There is a common notion that top notch heroines' careers take a nose dive post their single to married status change, however, the list we're going to unfurl will show you what breaking the stereotypes means.
Here is a list of top 4 Bollywood actresses who are married, but still manage to rule the roost.
1. Aishwarya Rai Bachchan – She might have been on a hiatus from Bollywood with baby Aaaradhya, but this Bollywood actress sure knows how keep herself in the limelight.
Last seen in Sanjay Leela Bhansali's 'Guzaarish' (2010), Aishwarya is all set to make her comeback with Sanjay Gupta's 'Jazbaa' in 2015.
And if you're thinking that she has been on a total sabbatical, you're mistaken. The Cannes film festival red carpet – which has been the 'Devdas' actresses' eternal turf – saw the gorgeous green-eyed beauty sizzle in designer couture.
The 40-year-old actress married Bollywood star Abhishek Bachchan in 2007 and it seems like nothing will stop this leading lady from taking the front row. 
2. Vidya Balan – She came, she saw and she conquered, but, not in the old- fashioned way. If there is any leading Bollywood lady who is worthy of the "breaking the stereotype" title – it is Vidya Balan.
Not only has she wowed audiences and critics alike with her unconventional role choices and films, but has also managed to book a solid spot in the top heroines club.
The daring star married UTV head honcho Sidharth Roy Kapur in December 2012 and she has had no turning back since then. Her last release 'Bobby Jasoos' was a more than a decent success at the box office and obviously, Vidya was crackling in it.
There have been rumors about the 36-year-old being pregnant, but Vidya has constantly dispelled them as health issues. Preggers or not, married or single, Vidya will always be unstoppable!
3. Rani Mukherji – Now married to Yash Raj Film's boss Aditya Chopra, this bong beauty has been around for way longer than many other top Bollywood heroines.
You might think that her hay days are behind her, and we don't blame you with films like 'Aiyaa' coming our way! But with her latest release 'Mardaani' hitting the box office, she has proven to us that she ain't going any where. 
4. Kareena Kapoor – Married to one of the top Khan's in the industry – Saif Ali Khan – Kareena Kapoor is in no mood to say good bye. With a total Bollywood money-spinner at the box office under her belt – Singham Returns – Kareena is all set to begin filming for director Kabir Khan's 'Bajrangi Bhaijaan'.