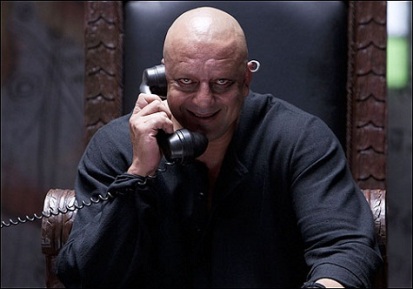 Bollywood actor Sanjay Dutt after the success of the movie 'Agneepath' in which he played the role of 'Kaancha Cheena', has become the most wanted item boy. Dutt in the upcoming movie 'Zilla Ghaziabad' will be seen doing an item song.
The song is composed by composer Bappi Lahiri's son Bappa and is titled 'Main Item No 1'. Popular south actress Shreya Saran will also be seen in the item song opposite Sanjay.
Earlier , the makers of the film did not pan of any item song with the actor. Some of the sources from the production unit said that the character of Sanjay in the movie is rugged, who does not sing or dance.
But after the success of the movie 'Agneepath' the makes decided to add an item song featuring Sanjay. The song will be shot in Kamalistan between February 5 and 8. The item song will be choreographed by Ganesh Acharya, who also worked in the popular item song 'Chikni Chameli' featuring Katrina Kaif. Producer Vinod Bachchan confirmed that they are planning to shoot a song featuring Dutt, which is going to surprise anyone. However the producer refused to disclose further details. In the past Sanjay has also done an item song in the second instalment of the 'Munna Bhai' series.