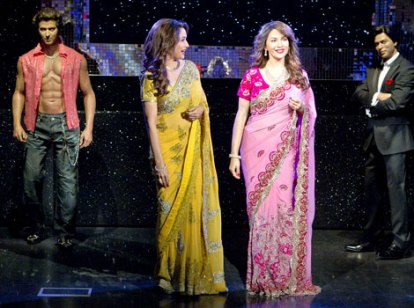 The 'Dhak Dhak' diva of Bollywood, Madhuri Dixit on March 7, 2012 unveiled her wax statue at the popular Madame Tussauds Museum in London. The actress known for her million dollar smile was thrilled to unveil her statue at the Bollywood section of the museum.
Mrs Madhuri Dixit Nene has become the latest celebrity to join the list of the few celebrities at the wax museum that includes, Amitabh Bachchan, Salman Khan, Shahrukh Khan and Aishwarya Rai. Madhuri in an official statement said that she was thrilled to be at the museum unveiling a wax figure of herself.
Dixit added that it was incredible how the details were captured and felt humbled to be included alongside the other Bollywood stars. Madhuri has become the sixth Bollywood celebrity to join the list.
Recently, Kareena Kapoor too joined the list of the wax museum after Aishwarya Rai. The pink sari worn by the statue was donated by the actress it took four months for the statue to be made at the cost of 150,000 pounds. The statue has the perfect look and the killer smile the actress is known for. Madhuri Dixit entered the film industry with a petite figure with the movie 'Tezaab' and then went on to become the dancing diva of Bollywood.