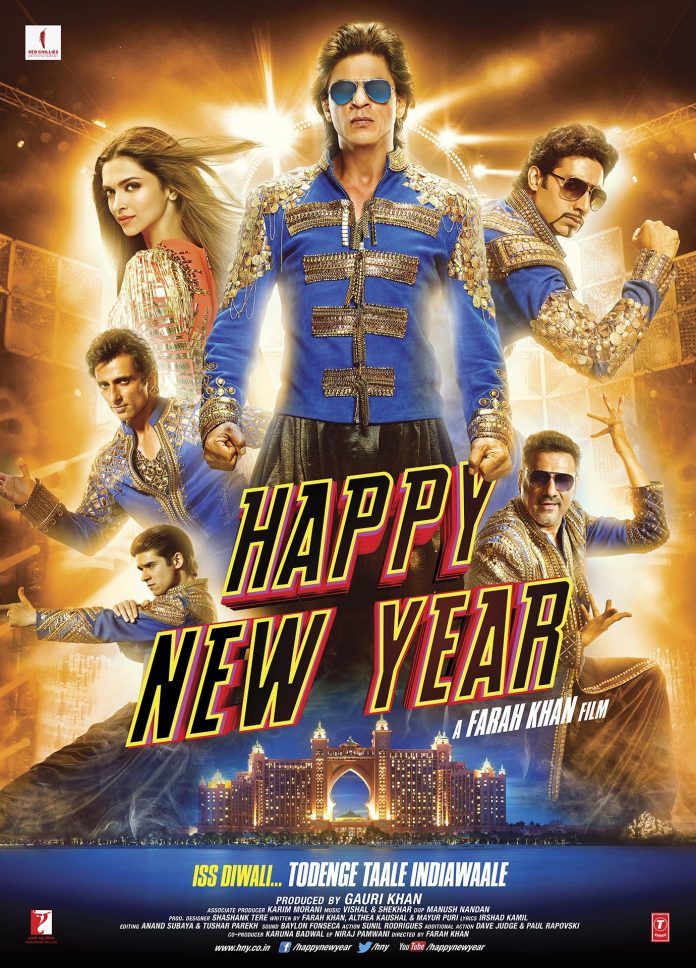 Too many cooks spoil the broth! Happy New Year review.
Movie Name: Happy New Year
Cast: Shah Rukh Khan, Deepika Padukone, Abhishek Bachchan, Boman Irani, Sonu Sood, Vivaan Shah, Jackie Shroff 
Director: Farah Khan
Genre: Comedy/Action/ Drama
Release Date: October 24, 2014
Run Time: 2 hours and 59 minutes.
Bollywood Garam Rating: 2.5/5 stars.
Loud, louder, loudest…that's the drumbeat 'Happy New Year' marches to. This Farah Khan opulence plays out on screen with some of the biggest Bollywood stars trying to pull of a mega masala flick, which ultimately does work in scanty bits in pieces, but for the most part 'Happy New Year' leaves the mind upon exiting the theatre. In true Bollywood lingo – "full timepass picture hai"
The plot of the film goes like this: In a bid to avenge his father Manohar's death – played by Anupam Kher – Shah Rukh Khan (Charlie) plans a major heist, his team members are Abhishek Bachchan (Nandu Bhide), Sonu Sood (Jagmohan), Boman Irani (Tammy), Vivaan Shah (Rohan), Deepika Padukone (Mohini). 
Each team member has a special talent, for example, apart from being the quintessential mad bawa stereotype, Boman Irani is an expert safebreaker, Vivaan Shah is the young tech geek, Sonu Sood is the expert bomb guy, so on and so forth.
The villain of the film is Jackie Shroff (Charan Grover), he wronged Charlie's father in a fake robbery and now the son (SRK) seeks revenge. 
The entire film is filled with copious amounts of references to 70s Bollywood films and poking fun at oneself is rampant, no harm in that, but when this is also mixed with slathers of Hollywood inspiration – Ocean's 11 – it spells out lack of novelty and originality. 
The film's magnum opus Bollywood feel is more than what the senses can take in at once and logic has pretty much been kept on the back burner. Shah Rukh Khan and Sonu Sood seem to be in a "my abs are better than yours competition", while the whole patriotic fervour that the film incorporates is uncalled for. 
Deepika's role in the film borders on the watchable and this is mostly owing to her superlative dancing skills. The World Dance Championship angle is what allows Deepika to show off her talents as an actress and a dancer who has travelled a long way ever since her first  film 'Om Shanti Om' – which was incidentally with SRK and Farah Khan.
All in all, 'Happy New Year' is that grand Bollywood film filled with music, dance and masti, but devoid of substance, meaning and logic. Typical Bollywood masala and good filmmaking – never shall the twain meet! 
Bollywood Garam doles out 2 and half stars to 'Happy New Year'.