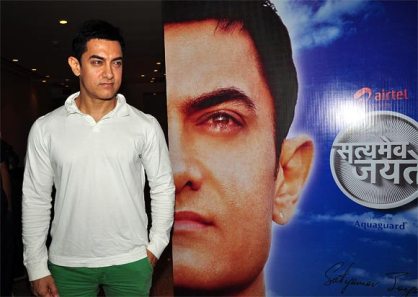 Bollywood actor Aamir Khan is all set to launch his first TV project 'Satyamev Jayate'. The actor revealed that the new reality show will create history as it will be aired simultaneously on a private channel and also on the national broadcaster DD1.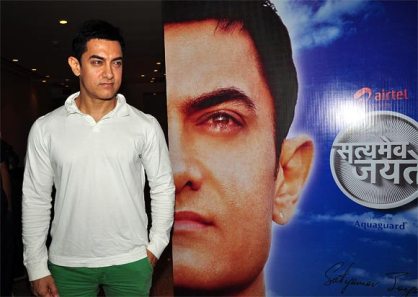 Aamir at the launch of the promo song of the reality show told the reporters, "This is for the first time in the Indian history that a show will also be showcased simultaneously on national television channel DD1. Besides, the show will be dubbed in four southern languages – Telugu, Tamil, Malayalam and Kannada. This show is being launched on a large scale". The show is all set to air on Star Plus from May 6, 2012.
Aamir also said that he is not bothered about the tele rating points (TRPs) and that he does not even know how to calculate them. The makers of the show intend to reach out to the Indian audience.
The actor also expressed that TV is a very powerful medium and added that he had to make the complete use of the medium. Surprisingly, the promo of the show is a love song and is composed by Ram Sampath, who composed the music for 'Delhi Belly'.