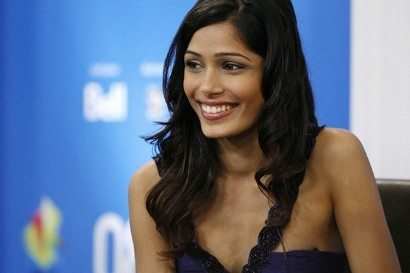 Actress Freida Pinto, known for playing the role of Latika in the Oscar winning movie 'Slumdog Millionaire', cannot stop praising actress Kareena Kapoor. Pinto says that the 'Jab We Met' actress has stood tall in the industry which is dominated by men.
Reports say that Bebo has been paid Rs. 8 crores for starring in the movie 'Heroine' and is the highest amount ever paid to any leading lady in the history of Bollywood. Moreover, the actress has also helped many films gross over 100 crores at the box office.
Freida while talking about the actress said "In India, actually, there has been a large disparity in how much a female and male actor gets paid, but this year, one actress (pointing out at Kareena) changed all that". The 'Slumdog Millionaire' actress added that she feels like his year they have experienced kind of shift in humanity in the industry.
The actress even posed in a retro look for a photo spread in a magazine. Pinto was photographed in short raven-haired wig in the 1950s inspired glamorous shoot. The spread has been titled as 'Freida Pinto is Museum Quality Beautiful'. In another shot the actress is seen dressed in an corseted Bottega Veneta dress in the rustic shade of emerald.