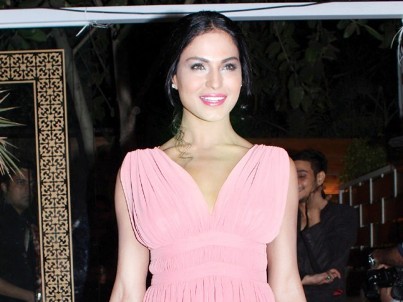 Pakistani actress Veena Malik is all set to make her Bollywood debut in the upcoming movie 'Daal Mein Kuch Kaala Hai'. The actress will not be just appearing in the movie but will make sure she gets properly noticed as she will be playing a double role in the flick.
Veena in the movie will be seen sharing screen space with Shakti Kapoor, Aman Verma, Vijay Raaz, Anand Balraj, Jackie Shroff, Liliput and Raja Chaudhary. The actress said that she is happy to work with such great actors of the industry.
The posters of the movie has shown the actress posing topless while she holds plenty of money to cover her assets. Malik will also be seen showing off her dance moves in an item number 'Madam Malai. The actress while talking about her role said that she will be playing the double role of two girls inside her, one is Zahida Malika and the other is Veena Malik. Malik added that if she can play a double role in real life then she can also play a double role in a movie.
Veena is not the only one to debut in the industry but is also a debut platform for director Anand Balraj and producer couple Deepak and Urvashi Bali. 'Daal Mein Kuch Kaala Hai is all set to release on June 29.