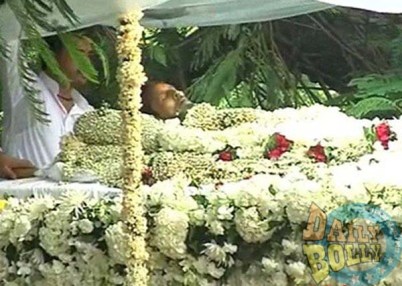 The last rites of the super star Rajesh Khanna were performed on July 18, 2012 at the Ville Parle crematorium. Amidst the emotional situation, nine year old Aarav lit his father's pyre along with his father Akshay Kumar.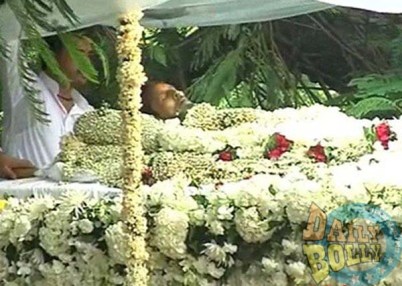 The body of the actor was placed in a transparent casket on a mini truck which was decorated with white flowers. Throughout the journey the fans of the actor thronged the roads to catch the last glimpse of the super star.
The former wife of the actor Dimple Kapadia, daughter Rinke and her husband Samir Saran and Akshay were present. But the elder daughter of the actor Twinkle Khanna who is pregnant with Akshay's second child was missing from the procession.
The funeral procession started from the Carter Road residence Aashirwad at 10 am. The funeral procession was initially planned through a longer route but as it was raining the procession was cut short. A group of women in their 50s were seen crying as they hummed the actor's evergreen song 'Zingadi Ek Safar'. Many of the fans also paid tribute to the great actor by dressing up in his style. While those who did not attend the procession, watched it live on their TV sets. Even in Bollywood many shootings were cancelled for the day.