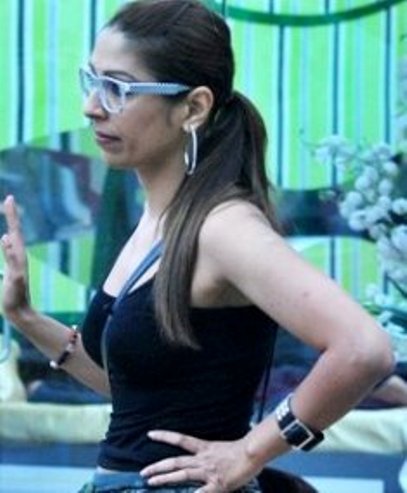 As seen in the earlier two seasons of the reality show Bigg Boss, the most unpopular person on the show is sent to a secret room, from where he/she can observe the activities of the housemates. This season Pooja Missra is the most prospective candidate to enter the secret room from where she can observe as well as hear conversations of the housemates.
At present Pooja M continues to pick up fights against the other housemates and is also the biggest TRP grabber. In the recent episodes the model was also seen looking like a joker with the make up and writing joker on her outfit.
The popular celebrity publicist Dale Bhagwagar, had pointed out that Missra is undoubtedly the major TRP generator in this season and was also counseled by the publicist before she had entered the house. The VJ and model was given a few tips and tricks to survive in the house.
However in the past few days the number of fights and arguments has reduced after the entry of Swami Agnivesh from the camp of Anna Hazare, who has been successful in creating a soulful atmosphere in the controversial house. The secret room is a room where a contestant is isolated along with a few equipments to observe the housemates.