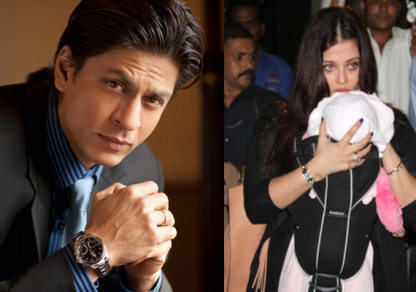 While all the Bollywood actors have wished Abhishek Bachchan and AIshwarya Rai for their new bundle of joy Aaradhya, actor Shahrukh Khan was busy with films. But the actor recently dropped in to the Bachchan residence Jalsa to meet baby Aaradhya.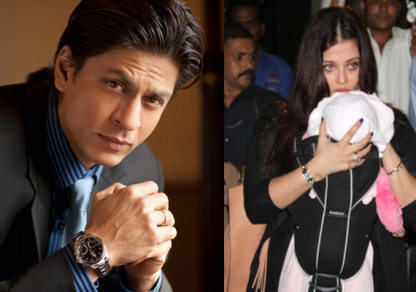 Shahrukh had met Aishwarya after delivery, but could not meet Beti B due to his hectic schedule. But on July 25, 2012 Shahrukh drove in to Jalsa and spend some time with Aishwarya Rai's daughter.
Reports said that film maker Farah Khan had come to meet Abhishek and around the same time Shahrukh was at Hrithik Roshan's residence which is just nearby. Shahrukh had then immediately dropped in and spent time with Aaradhya and her family.
Shahrukh first spent some time with Aaradhya and later moved to the conference room with Farah and Abhishek. The meeting however did not take long but chatted till 1:30 am. The unplanned visit of Shahrukh at the Bachchan residence proved that all is well between Shahrukh and the Bachchan family. Earlier there were reports that there was some kind of cold war between Shahrukh and Abhishek Bachchan. But in recent times when Abhishek Bachchan announced about Ash's pregnancy, then SRK had Tweeted his support to Abhishek in case he needs some tips on parenting.