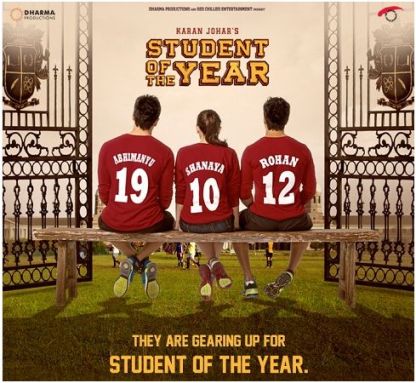 Film maker Karan Johar has revealed the first look of the much awaited movie 'Student Of The Year' online. Johar revealed the first look on the social networking site Twitter.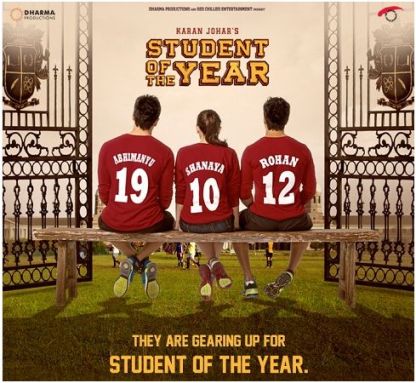 The poster of the movie shows three students sitting on a bench showing their backs to the camera. The students are seen wearing identical jerseys with their names on it. The jerseys also have the numbers 19, 10 and 12 which indicates the release date of the movie 19 October, 2012.
Karan Tweeted, "The Student Of The Year teaser poster". The poster has the title 'The competition of life starts on 19.10.12.' The poster has not revealed much about the story line but has definitely maintained that it is a youthful story.
The poster has also revealed the character names, Rohan, Shanaya and Abhimanyu, which will be played by the new comers Siddharth Malhotra, Alia Bhatt and Varun Dhawan respectively. The three play the central characters in the flick. The movie is co-produced  by Shahrukh Khan and is directed by Karan Johar. Karan has been busy working on the movie since long. The movie will also mark the debut of three young stars in the making. Alia is the daughter of film maker Mahesh Bhatt and Varun is the son of film maker David Dhawan.