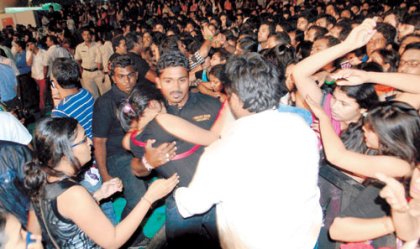 Spanish pop singer Enrique Iglesias landed in the city of Pune for a concert on October 17, 2012, which ended in the local police hitting members of the organizing committee with 'lathis'. The organizers of the show alleged that the Pune police deployed at the venue had beaten them when they had questioned the Assistance Commissioner of Police (ACP) about bringing in people without passes. However the police said that they were ensuring proper security at the entrance.
Vijay Nair, one of the shows organizers and a prominent figure in India's music industry said that he received a good blow in his head, while another complained that he had a ligament injury. Girish Talwar, the Co-founder and director of Only Much Louder said that at 8:30 pm during the concert the ACP Mr. Pawar wanted to bring in his guests, who did not have passes or wristbands for the show.
According to reports, the ACP had already been given an appropriate number of passes for the show worth Rs. 8,000 for the platinum gate. However a policeman brought another group and was trying to get them through the platinum section without appropriate passes. When asked by Nair as to how many more guests he will be bringing in, his associates started hitting him. Nair had bruises on his back and neck, while another organizer Rajesh Balpande suffered a ruptured ear drum. The injured organizer then went to DCP Manoj Patil, who stopped Pawar from beating the organizers.