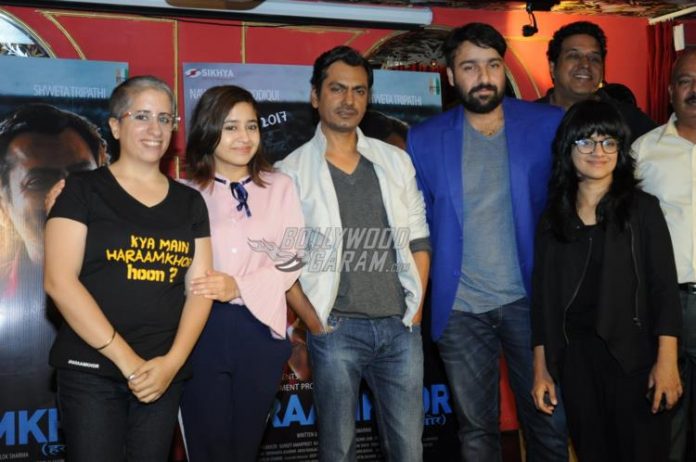 Movie Name: Haraamkhor
Cast: Nawazuddin Siddiqui, Shweta Tripathi, Trimala Adhikari, Irfan Khan
Director: Shlok Sharma
Genre: Drama
Release date: January 13, 2017
Bollywood Garam Rating: 3/5 stars
Nawazuddin Siddiqui is not just known for his acting skills but also for the choice of his films. The versatile actor is back with another movie with an interesting subject and has made it to the silver screens after being screened at various film festivals.
The story of the movie is about a young teenage girl named Sandhya played by Shweta Tripathi, who is drawn towards her much older mathematics teacher Shyam played by Nawazuddin Siddiqui, who is a married man. On the other hand Sandhya has an admirer in Kamal played by Irfan Khan, who is a few years younger to her but wishes to get married to her. The subject of the movie might be delicate but the director has executed it in a very delicate, light and breezy manner by adding many comical situations.
Even the cinematography and the background music are at its best. Shweta as a teenager looks pretty and cute while Nawazuddin has once again challenged his own skills. With reference to the subject of the movie, do not expect much of romance between the student and her older teacher and this might also become a point for disappointment and disconnection. Another disappointment is the climax which many might find abrupt. One cannot deny the fact that there is a difference between the film festival audience and the general public who are the actual judges.
'Haraamkhor' is not for those who like to watch the regular masala movies in Bollywood. Overall, the movie is pretty bold with an interesting subject which can draw public's attention. There are some great performances by the characters which can make the movie a great one despite the negative points.
Photo Credits: Viral Bhayani