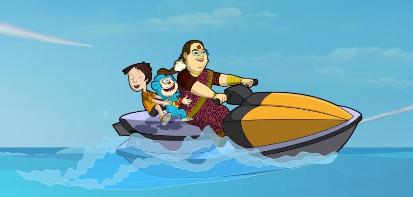 The popular cartoon character from Nickelodeon Keymon Ache, has made its movie debut with the flick Keymon and Nani in Space Adventure, which released on November 9, 2012. It s an animated flick for children who are ardent fans of Keymon Ache.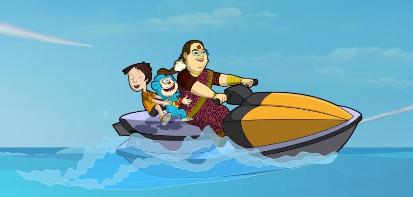 The story is about Keymon and his friend Rohan, who go to Goa to meet their grandmother who is known as Nani Boss. While they are having fun in Goa, Nani Boss gets kidnapped by aliens. The voice of Nani Boss is that of veteran singer Usha Uthup.
Nani is taken by the aliens to a planet which is ruled by evil dictator Udi Baba. Udi Baba jails Nani and other elderly ladies and wishes to eat them. The movie is fun to watch with the whole family with several 'wow factors' like flying trains, as well as mountains of ice cream and chocolate. In short, it is a visual treat for children.
While watching the movie one might feel as if they are reading a story book. Apart from the story, the movie also teaches values like respect for elders, helping people in need, asking for permission before touching someone else's belongings and other such things. However, the animation might not be up to the mark, whereas the story starts dragging a bit once the trio reaches the alien planet.
All-in-all it is a fun flick to watch with the entire family.