Hollywood Celebrities dazzle at the 89th Academy Awards

The annual Academy awards, aka, the Oscars are not just about the movies, but also celebrate fashion, where fans eagerly await to see what celebrities turn up wearing on the biggest red carpet event of the year in Hollywood. A-listers descended in style this year at the Dolby Theatre in Los Angeles for the 89th Academy Awards on February 26.
The event was supposed to have a black-and-white theme, but some took a fashion risk and experimented with brighter colors.
Dev Patel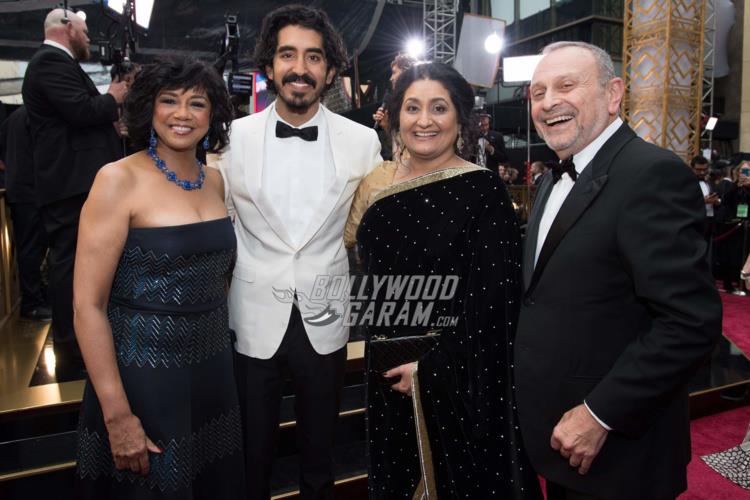 The Lion actor and Oscar nominee for Best Supporting Actor, looked dapper in a monochrome Burberry tuxedo. And everyone was talking about how he brought his mother as his date!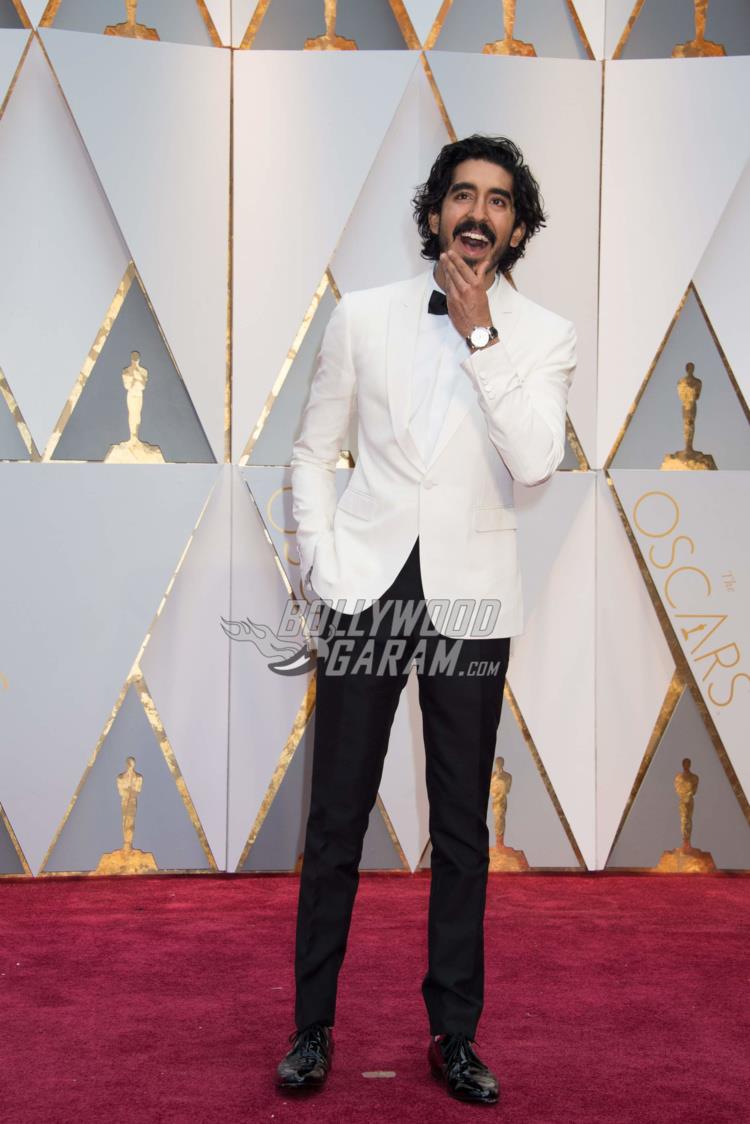 Jackie Chan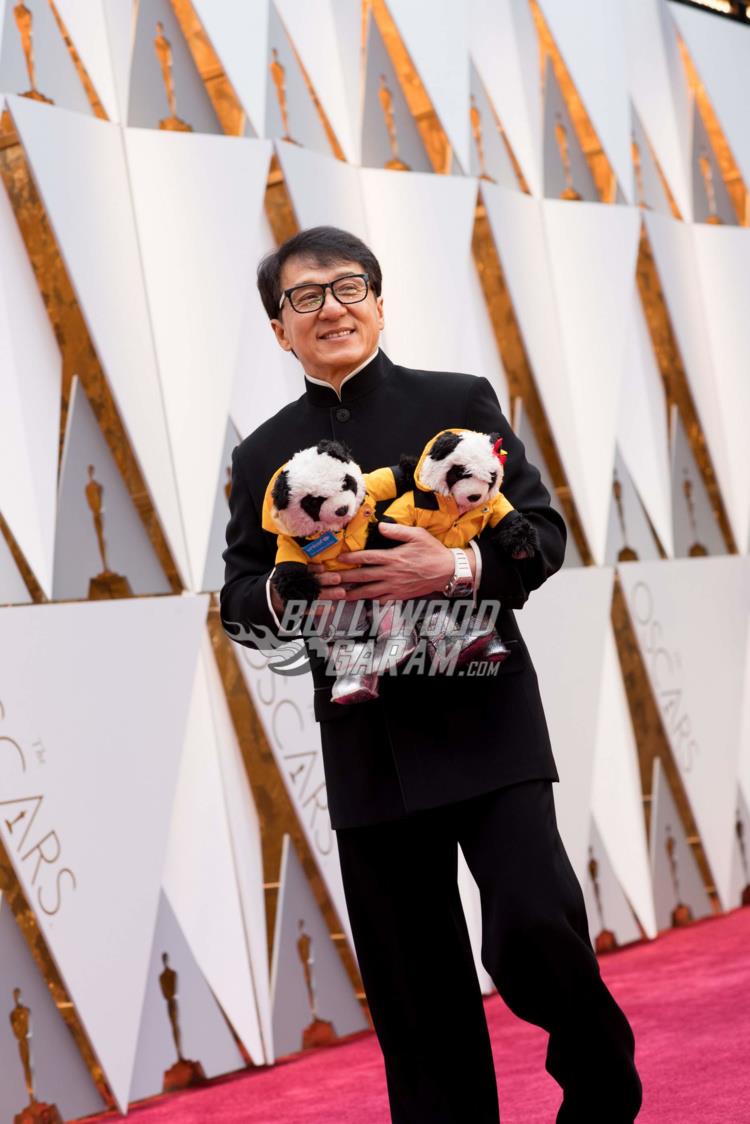 2016's honorary Oscar awardee and Chinese legend, Jackie Chan showed up with two stuffed pandas in tow.
Priyanka Chopra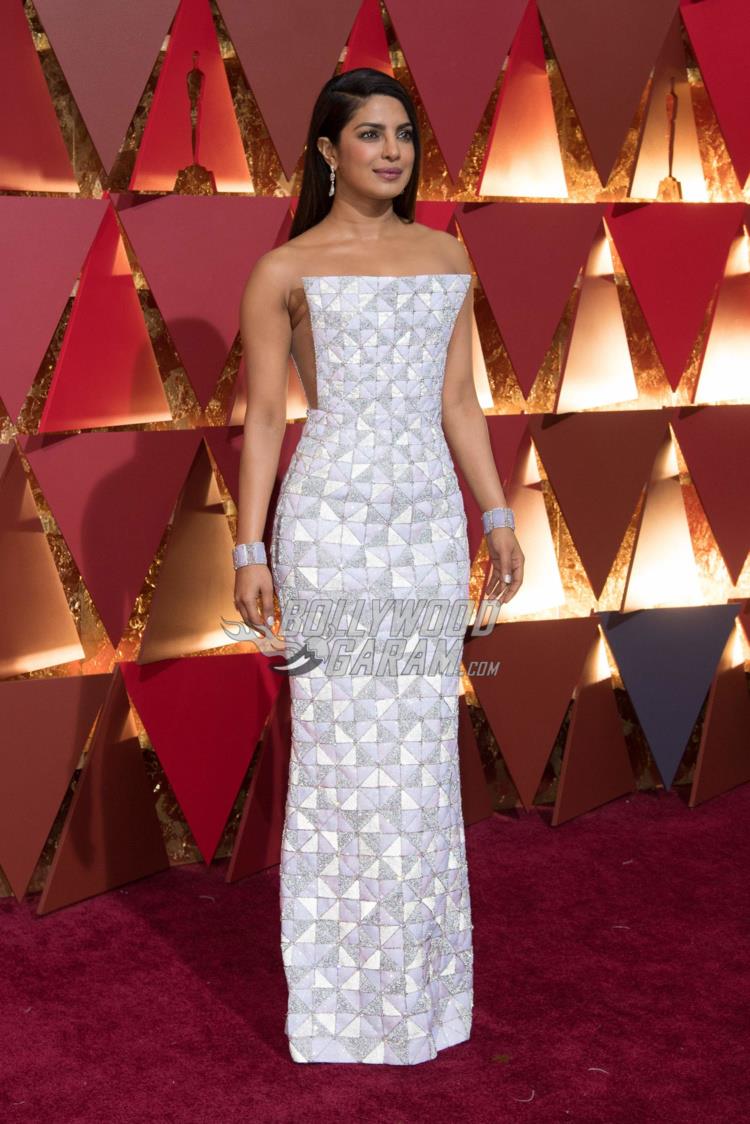 Bollywood actress Priyanka Chopra dazzled at the Oscar Awards red carpet 2017 in an ivory Ralph & Russo structural silhouette. The "Quantico" actress looked great, but some critics weren't impressed by her dress and even said it resembled a cardboard box. We think it looks great though!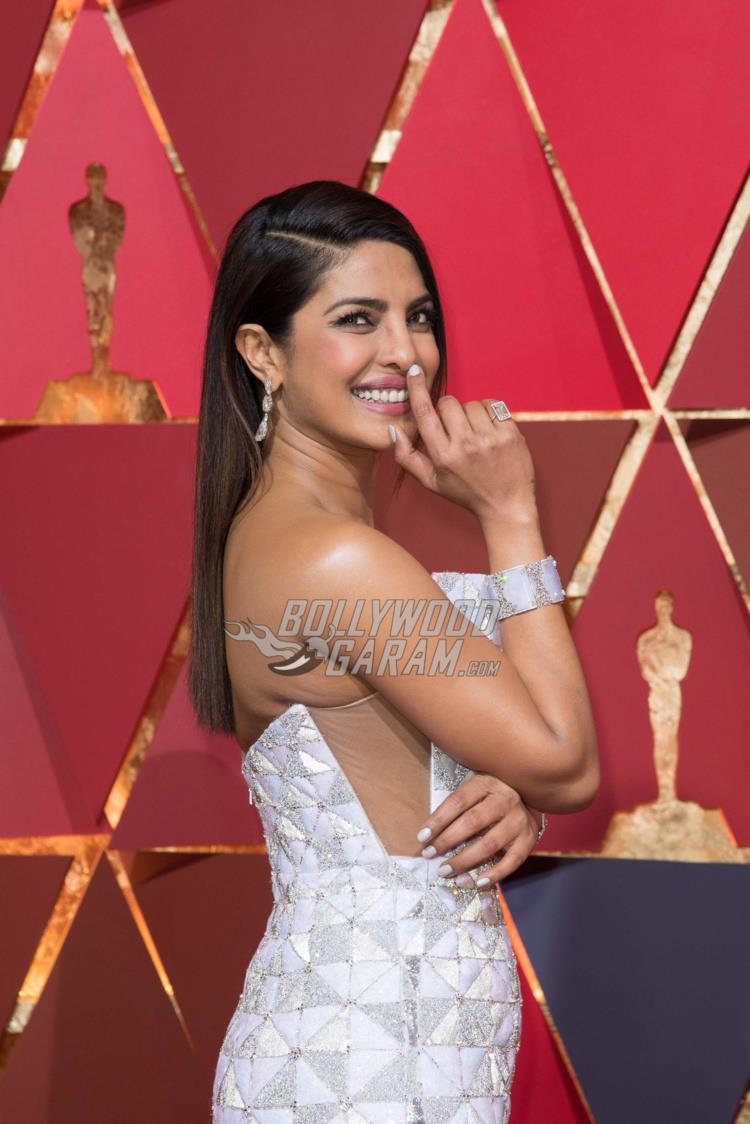 Riz Ahmed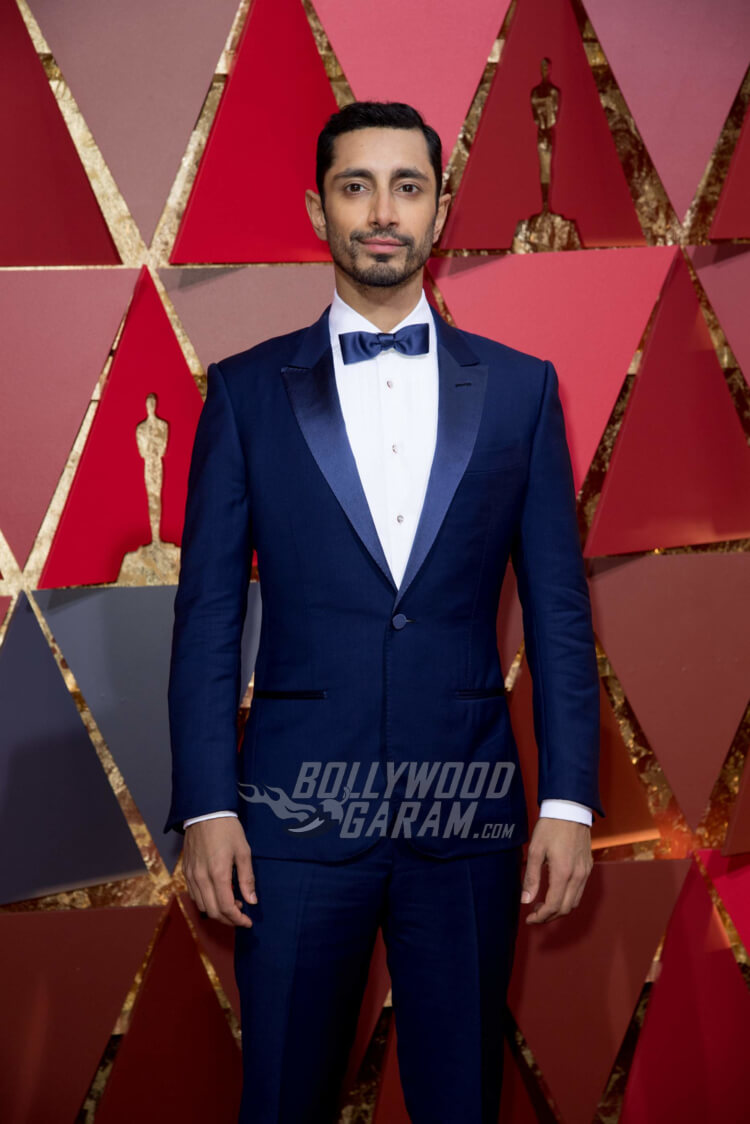 Emma Stone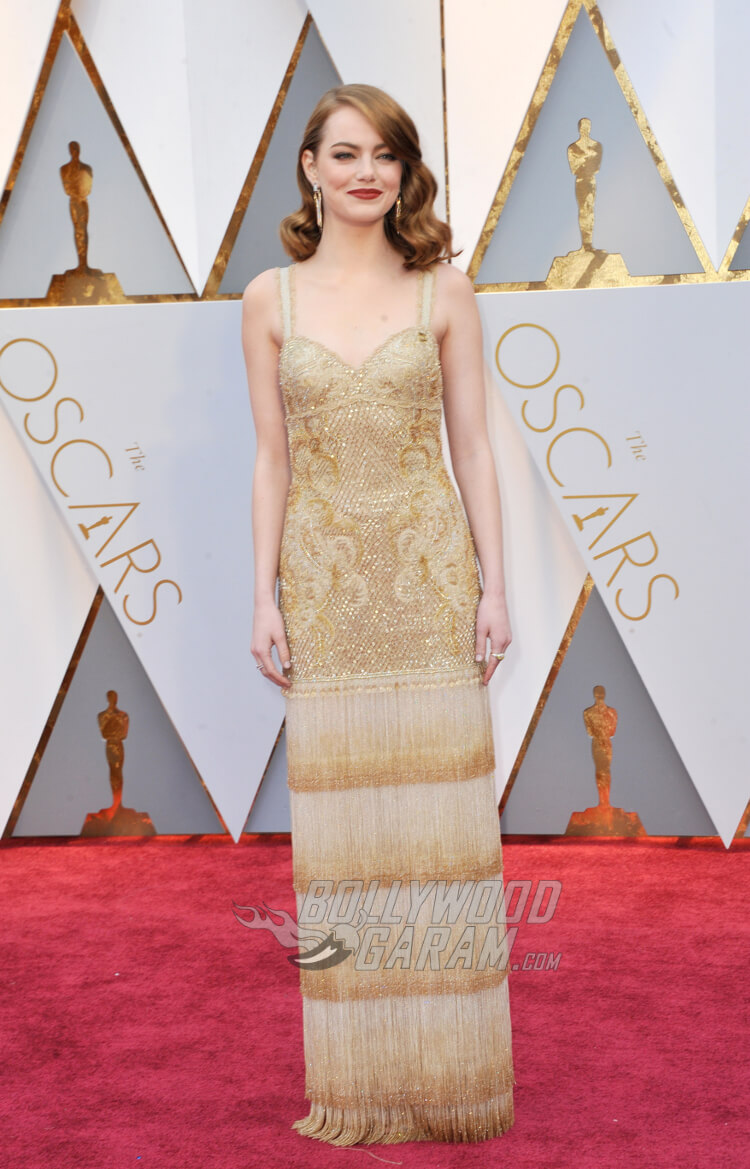 Emma Stone looked like a vision at the Academy Awards Red Carpet in a shimmering custom Givenchy dress by Riccardo Tisci. She was definitely one of the best dresses actresses at the event.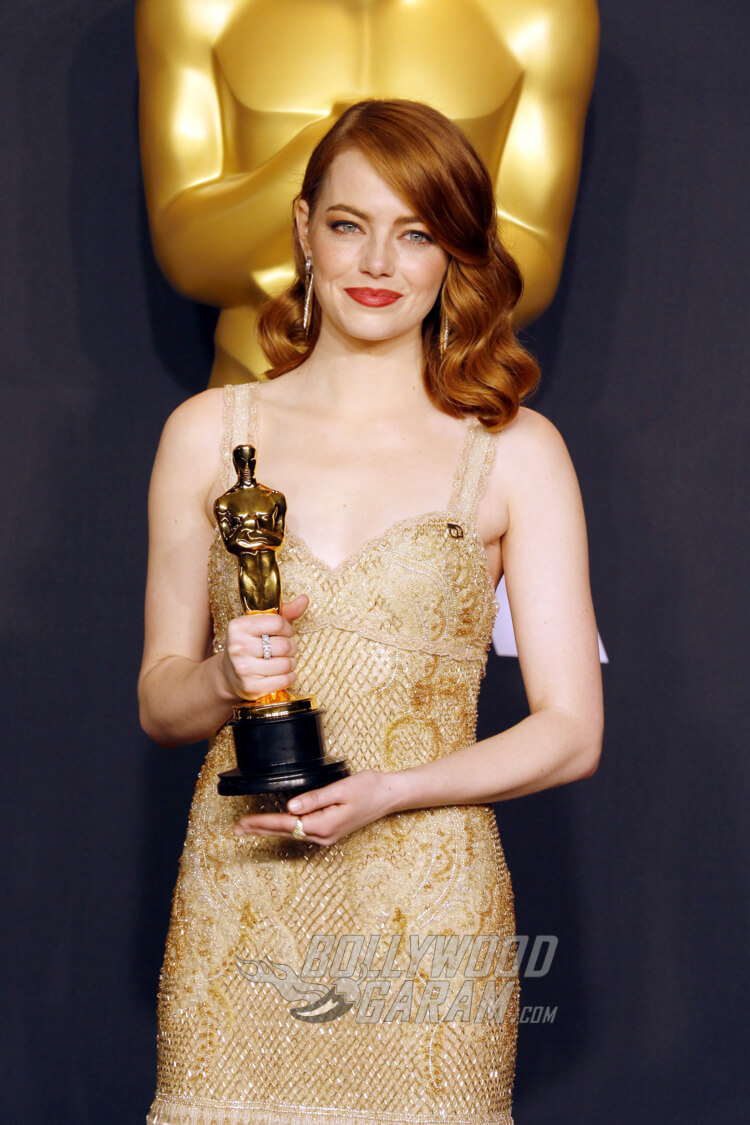 The gorgeous actress even grabbed the coveted Oscar for Best Actress for her stellar performance in La La Land! The fringed tiers added extra drama to her walk as she headed to stage to accept her award.
Nicole Kidman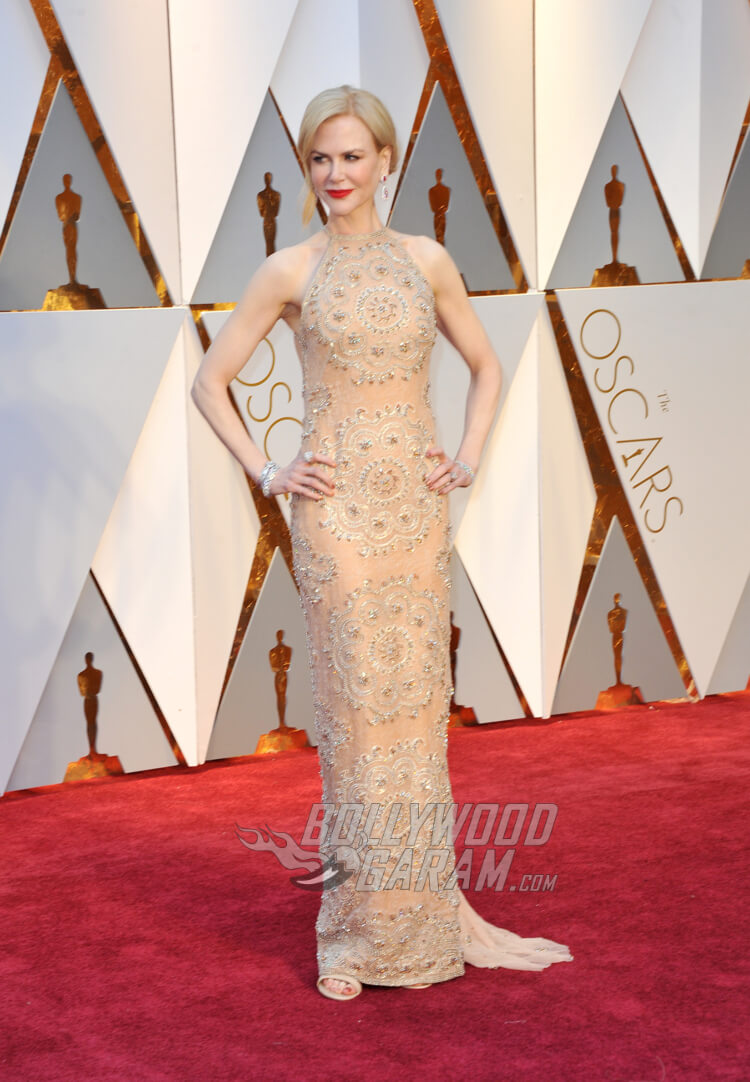 "Australia" actress Nicole Kidman made a graceful appearance in a nude beaded Armani Privé gown; her sculpted shoulders added to the glamour quotient.
Charlize Theron
The actress definitely gave her colleagues a run for their money with her gorgeous gold lamé Dior gown!
Scarlett Johansson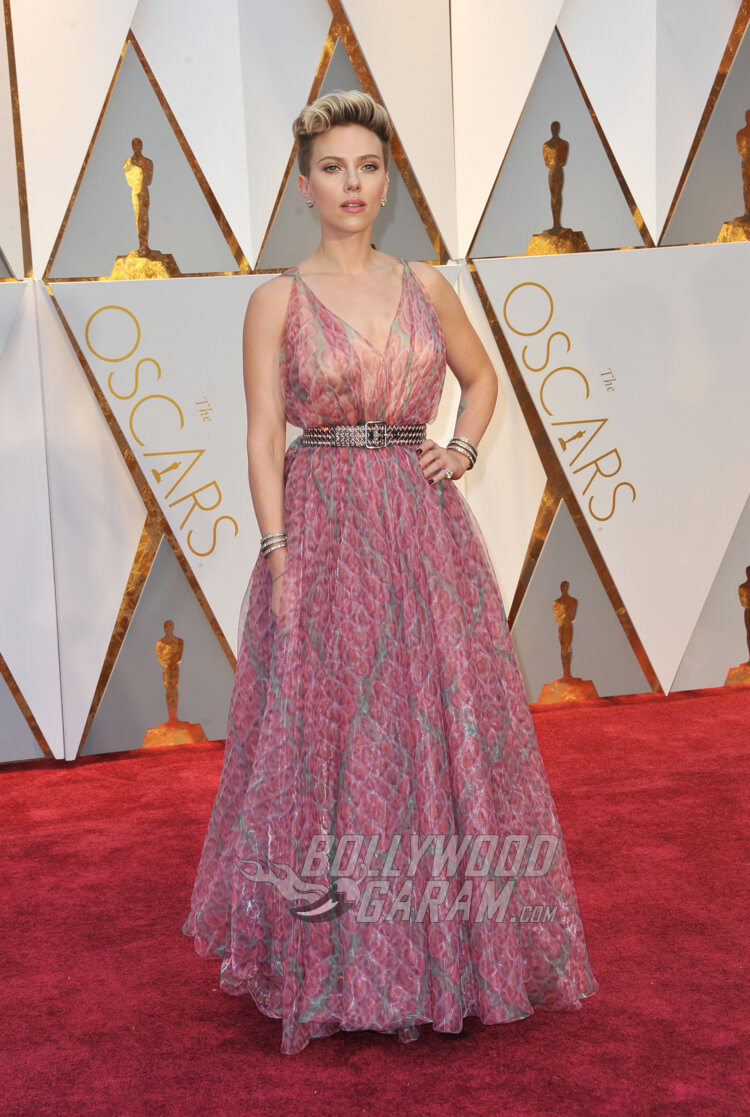 While some critics weren't pleased with Scarlett Johansson's choice of gown for the evening and promoted her to one of the worst dressed celebrities, we still love it! She has rarely made a misstep on the carpet, and her semi sheer purple gown by Azzedina Alaia perfectly complimented her svelte figure, revealing her rarely seen side-b**b tattoo.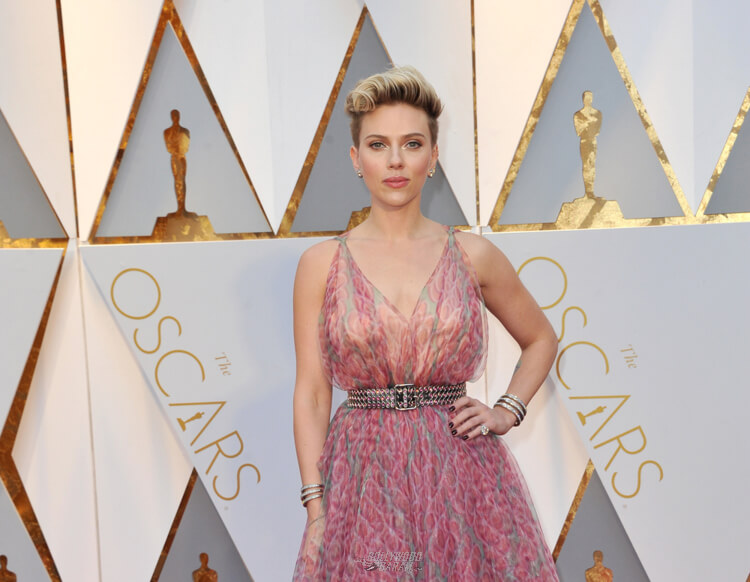 Viola Davis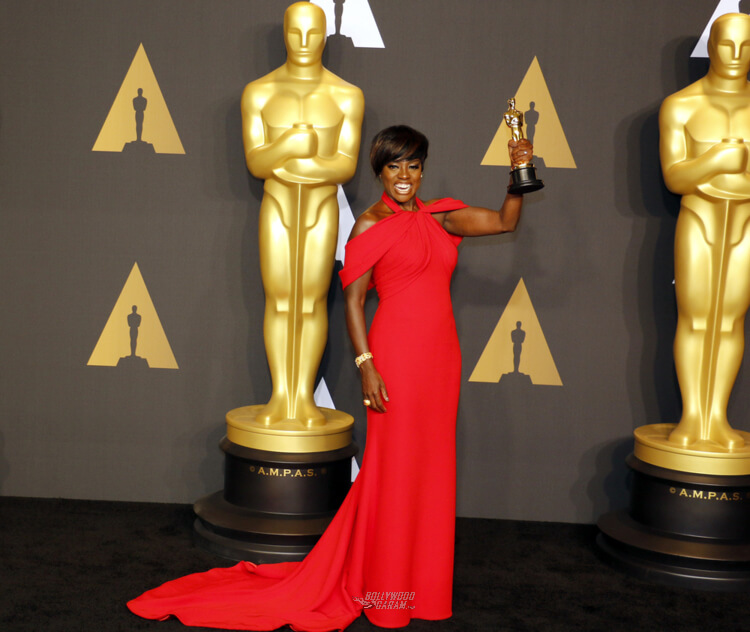 Actress and producer Viola Davis picked a bright red by Armani Privé and proudly showed her Oscar for Best Supporting Actress, for her moving performance in Fences.
Naomie Harris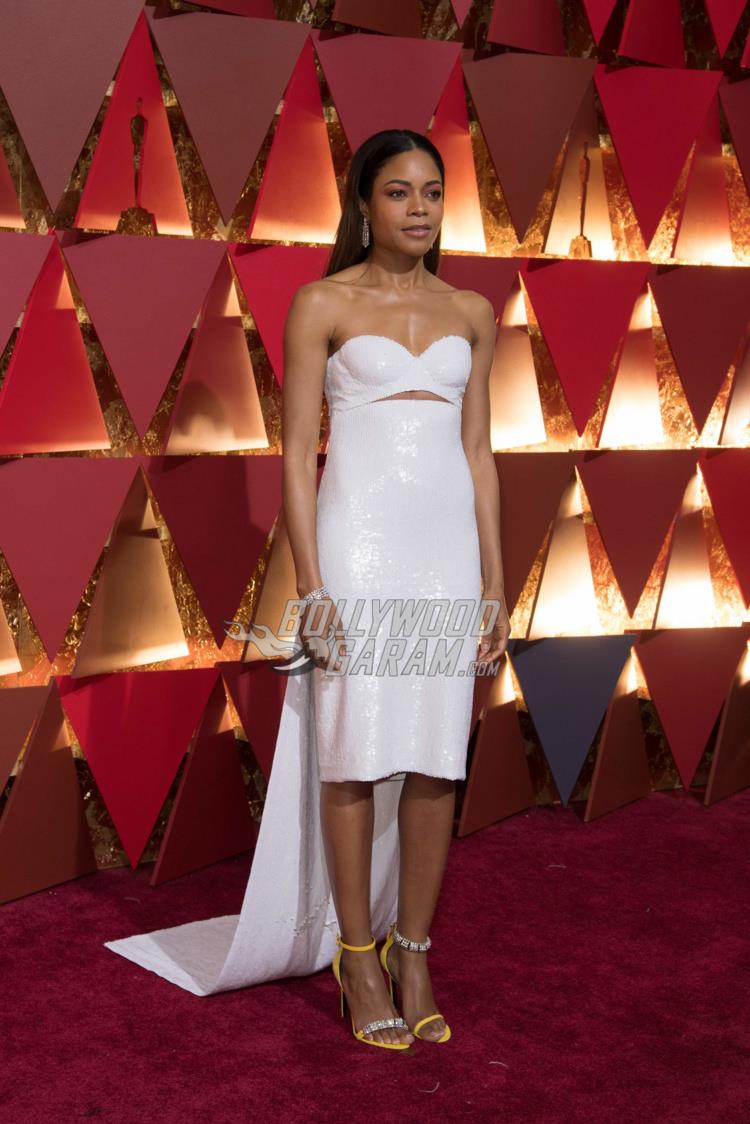 The Spotlight actress came to support her team, donning a white cutout dress and yellow stilettos.
Janelle Monáe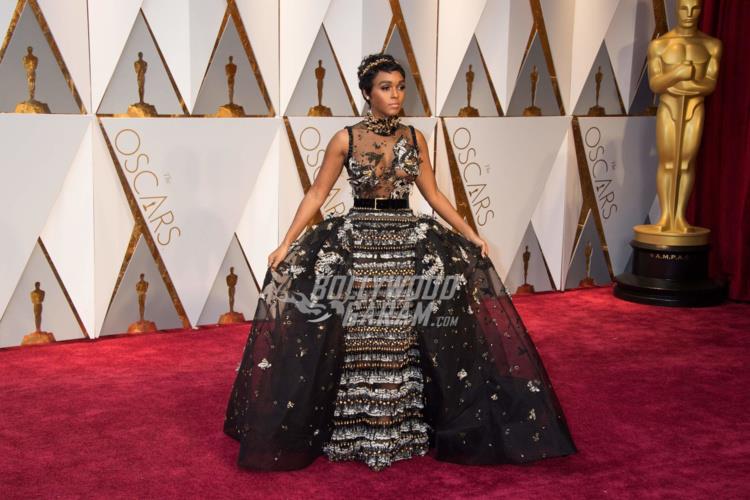 The Hidden Figures actress, Janelle Monáe looked gorgeous in a stunning black lace gown by Elli Saab that was paired with a beautiful tiara.
Taraji P. Henson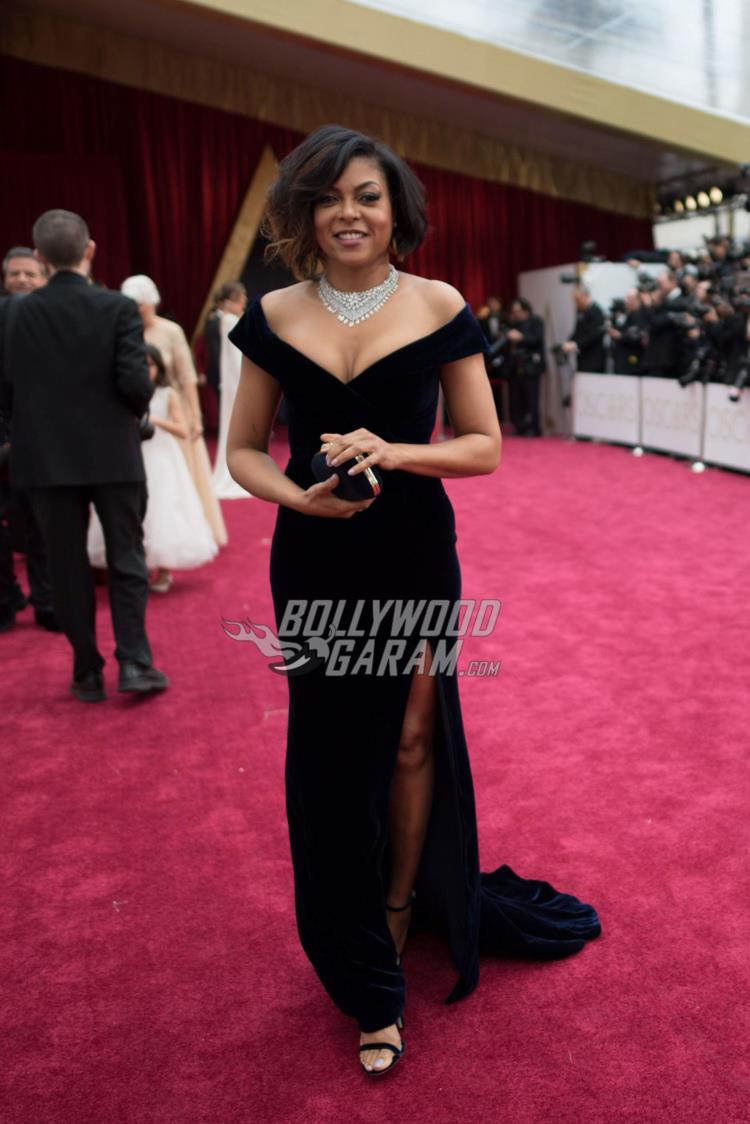 Hidden Figures actress and author Taraji P. Henson looked gorgeous in a velvet blue Alberta Ferreti gown with a thigh-high slit. Henson competed her look with necklace and a million dollar smile.
Denzel Washington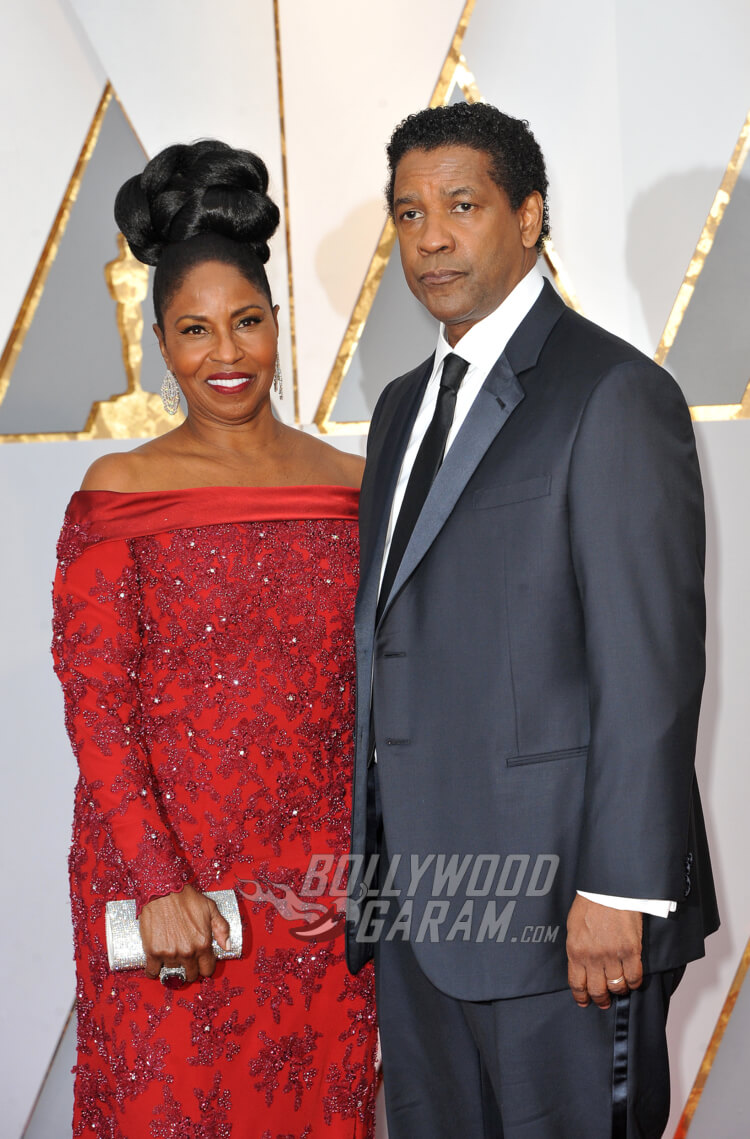 Multiple Oscar Winner Denzel Washington attended the 2017 Oscar Awards along with his wife.
The White Helmets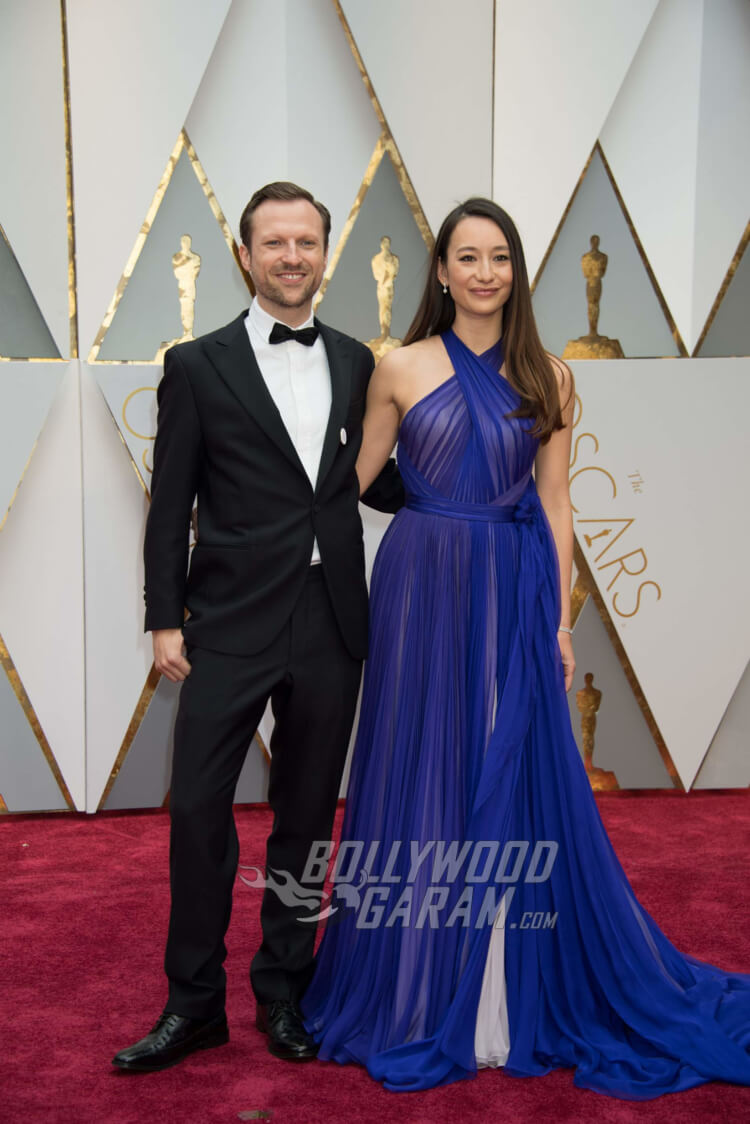 Joanna Natasegara and Orlando von Einseidel of the Oscar-winning Netflix documentary, The White Helmets gave a fiery political speech that night about the Syrian situation.
Chris Evans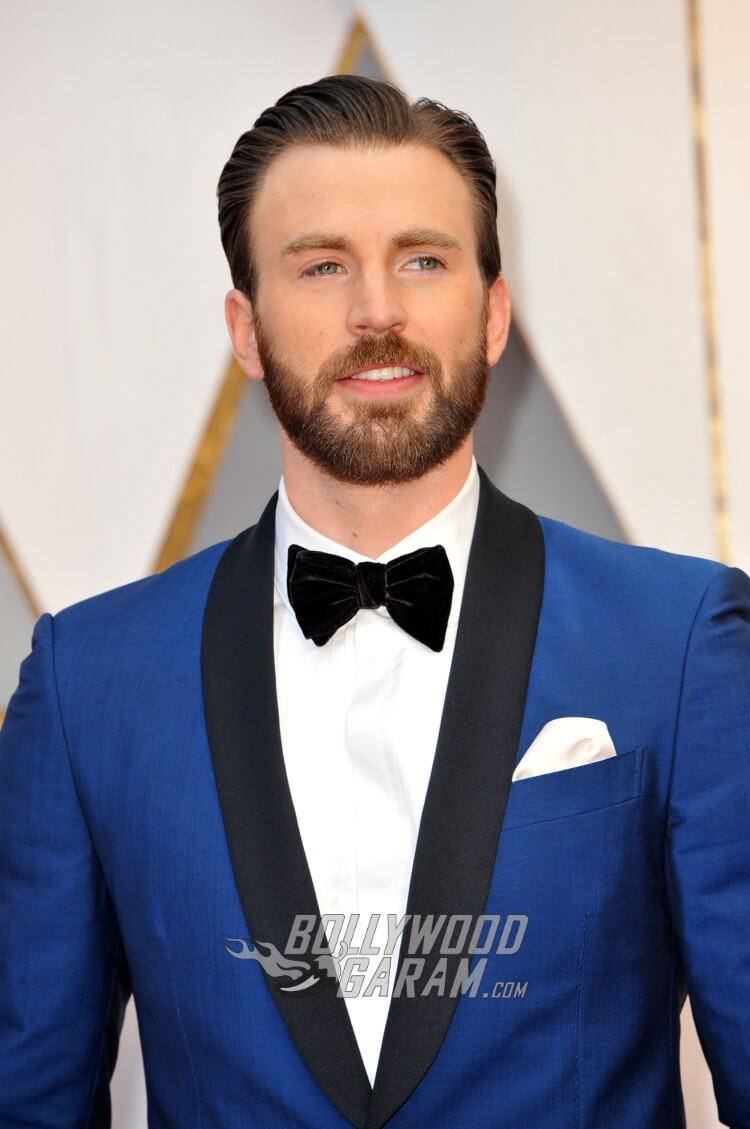 Justin Timberlake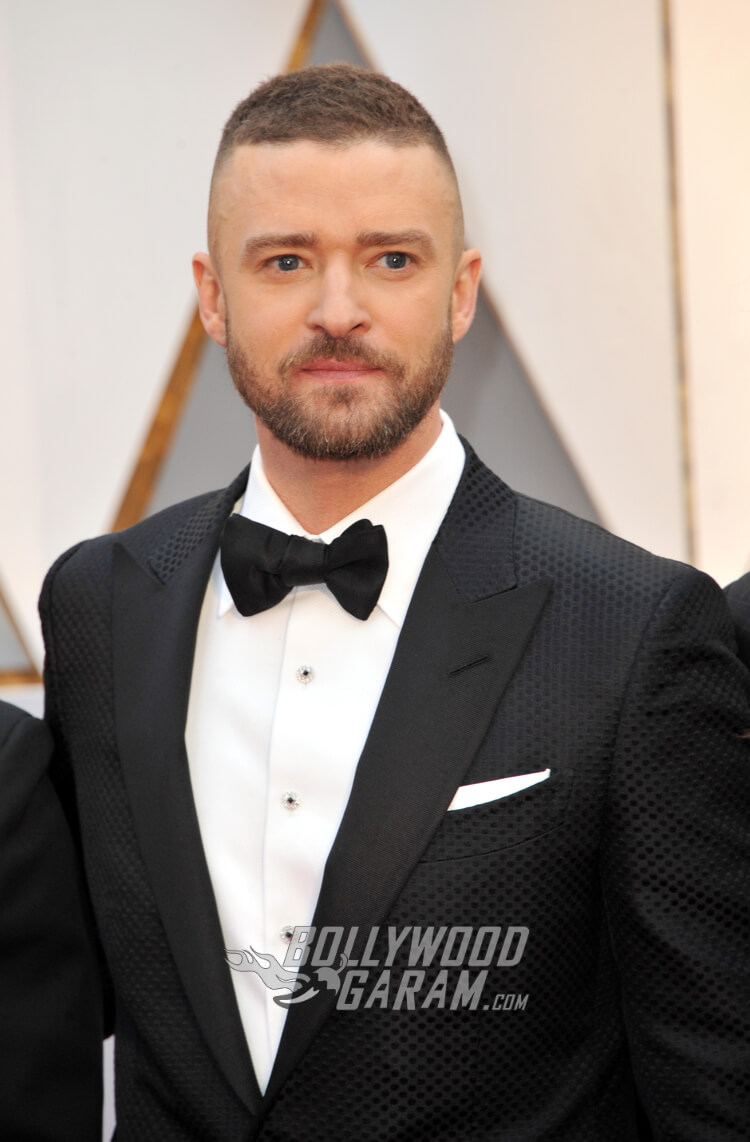 Singer Justin Timberlake arrived at the Annual 89th Academy Awards looking super dapper in a classic black tuxedo.
Isabelle Huppert
The legendary actress turned up at the event for her nomination for Actress in a Leading Role for her performance in Elle and sported some chic french hair.
Felicity Jones
The star of Rogue One: A Star Wars Story turned up the red carpet in a stunning cream lacy dress, paired with golden heels. She presented the award of Best Visual Effects at the ceremony with her co-star, Riz Ahmed.
Sofia Boutella
Actress Sofia wore a shimmery silver Chanel dress with a feather bottom, which didn't go down well with some critics. But we just can't enough of her beautiful smile!
Leslie Mann
Is that Belle from Beauty and the Beast at the Oscars? No, its Leslie Mann in a stunning yellow fairytale inspired Zac Posen gown! Paired with Lorraine Schwartz jewelry and Jimmy Choo clutch and shoes, she definitely got all the attention she deserves.
Karlie Kloss
Supermodel Karlie totally ruled the red carpet with her all white number, paired with a lacy jewel studded choker.
Kelly Ripa
The popular talk show host looked elegant in a navy blue off-shoulder gown, embellished with butterflies.
Ruth Negga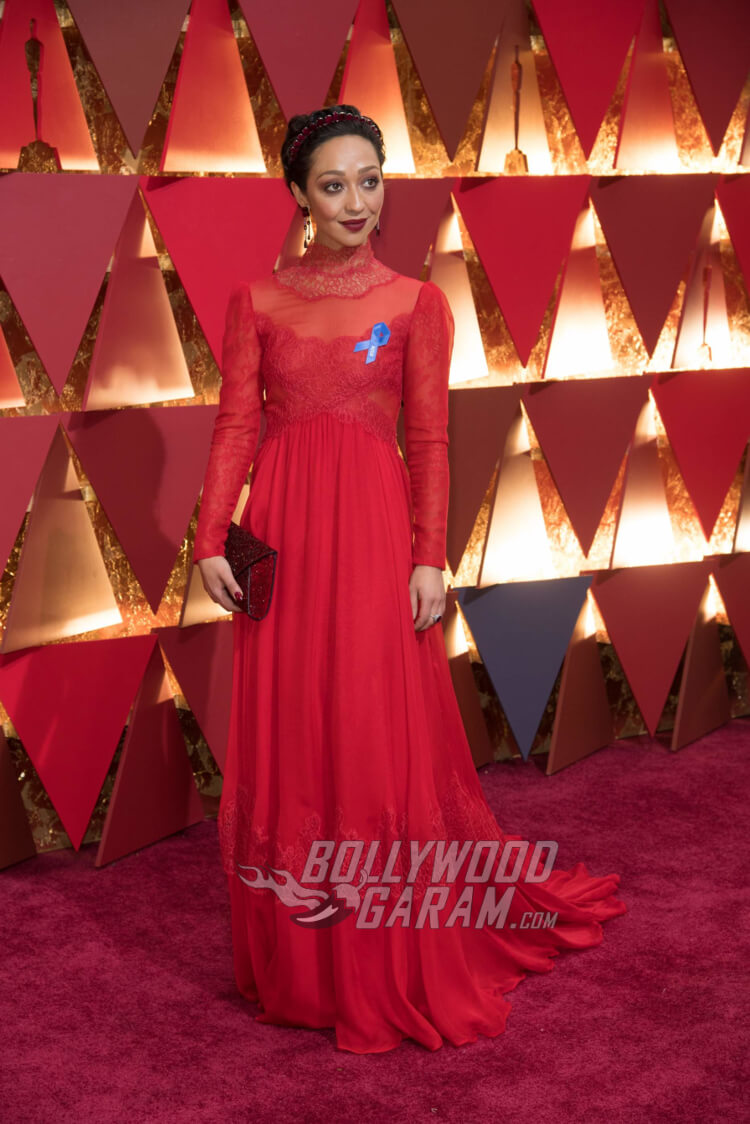 Nobody wears a tiara like Ruth Negga! The actress turned up at the Oscar Red Carpet in a stunning red dress and showed support for her movie, Loving with a blue ribbon.
Hailee Steinfeld
We are completely in love with Hailee's Ralph & Russo dress!
Jessica Biel
Actress Jessica Biel looked lovely in a gold shimmering Kaufman Franco gown! She completed the look with a small golden hand clutch and chose to tie her hair up in a loose bun, which complimented the dress very well.
Salma Hayek
The sultry Bond Girl, Salma Hayek looked amazing in a black lace dress paired with a tiara and a million dollar smile.
Dakota Johnson
The Fifty Shades of Grey actress turned up the heat by fifty degrees with her killer bling bling dress!
Brie Larson
The actress was unarguably one of the best dressed actresses on the red carpet today, with her custom made strapless, black velvet ruffled gown by Oscar de la Renta.
Sunny Pawar
The little actor from Lion looked charming in his black tuxedo, paired with sneakers.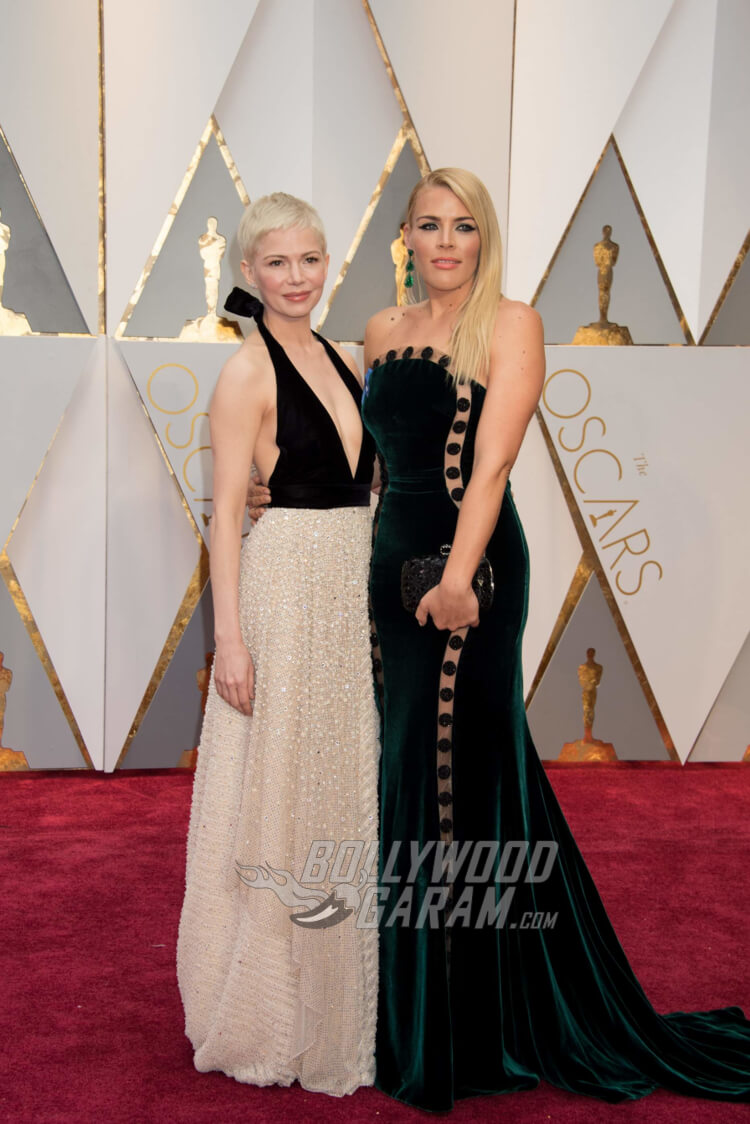 Mel Gibson
The Hacksaw Ridge director and veteran star made his comeback to the red carpet.
Busy Philipps
The actress came to support her BFF, Michelle Williams for the night and wore this long cutout black gown.
Michelle Williams
The Oscar nominee for Best Supporting Actress for Manchester By The Sea looked lovely in her nude-black dress.
Casey Affleck
Casey Affleck dressed to the nines, and for good reason. The actor picked up his first Oscar win for Actor in a Lead role for Manchester By The Sea.
Alicia Vikander
Alicia turned up in a Louis Vuitton black dress paired with a stunning diamond necklace at the 2017 Oscar Awards.
Ryan Gosling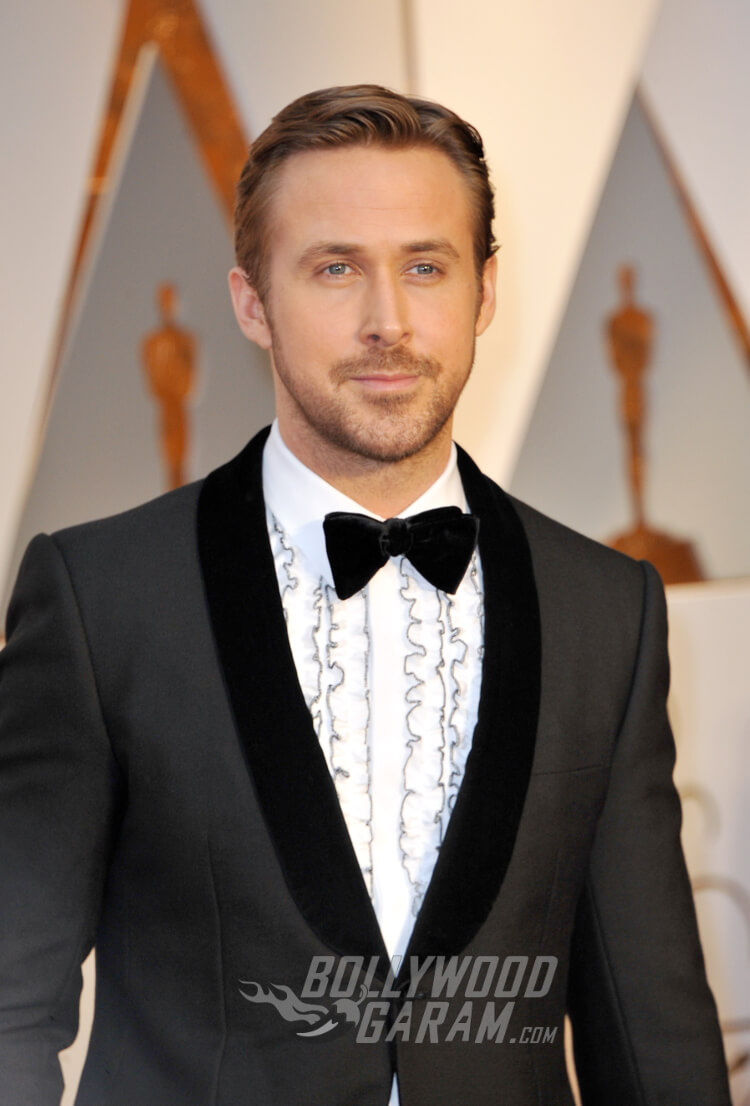 Halle Berry
The former Oscar winner looked stunning in her shimmering dress and afro!
"The Devil Wears Prada" actress Meryl Streep appeared in an off shoulder Elli Saab Couture half gown with pencil pants. While Kirsten Dunst played it safe with a black strapless gown for the Oscar Awards red carpet.
We even got pictures of all the big winners posing with their Oscars!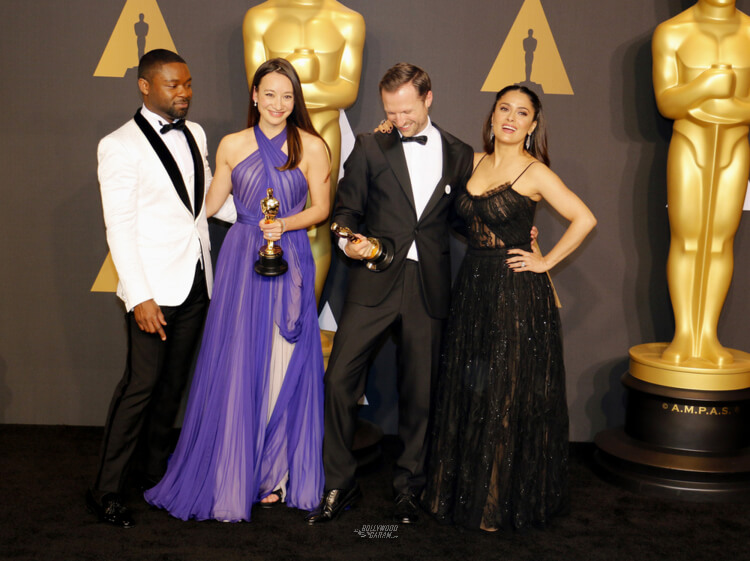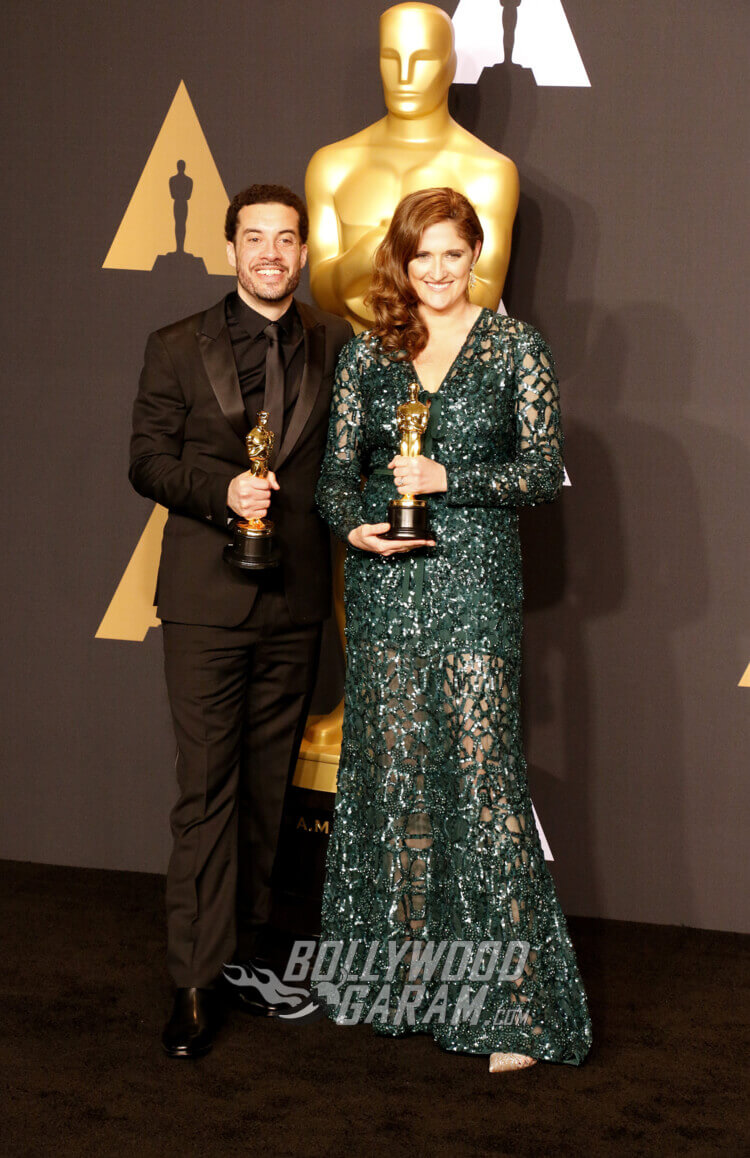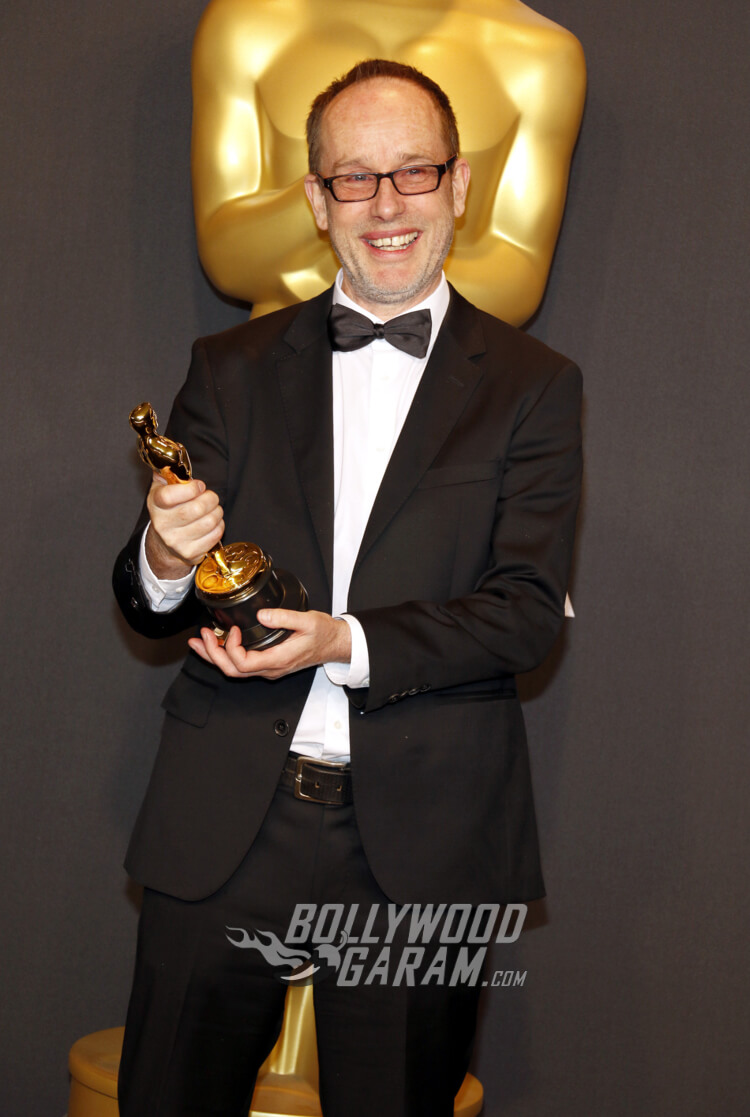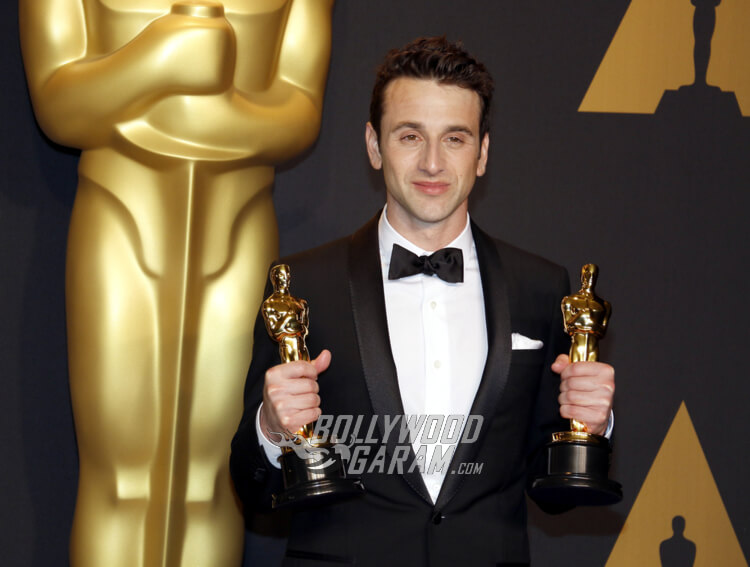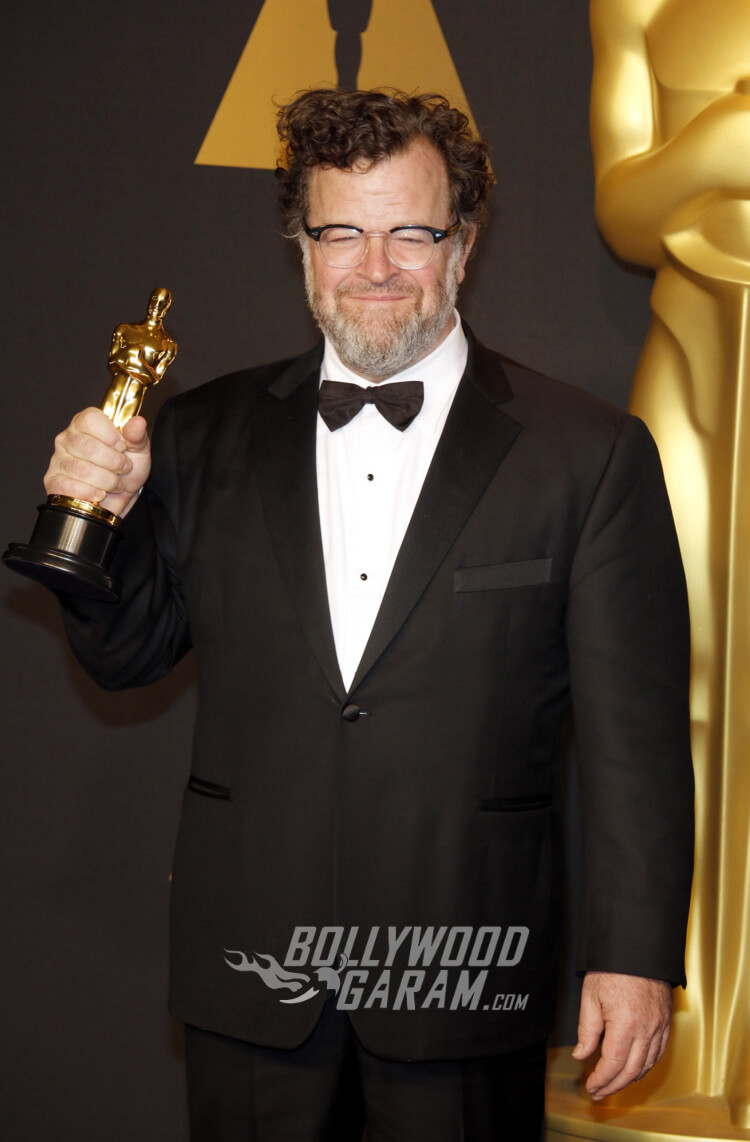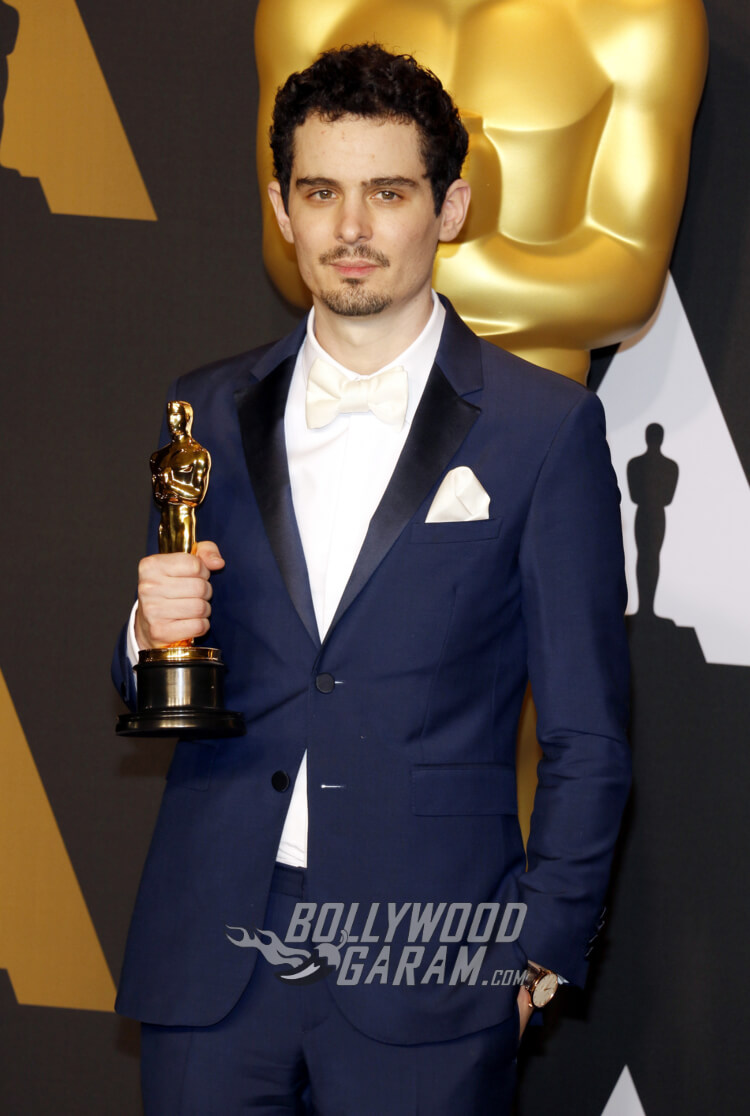 Stay tuned for more updates on the 89th Academy Awards, exclusively on Bollywood Garam!
Related news to 2017 Oscar Awards – 
Om Puri Honored at 89th Academy Awards with a Special Performance!
Photo Credits – Viral Bhayani