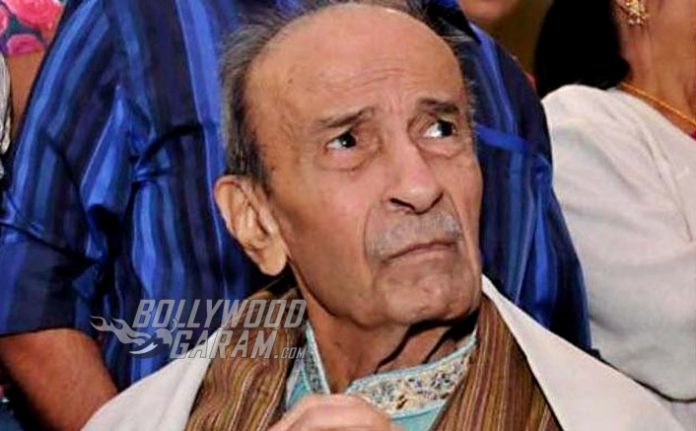 Columnist Taarak Mehta breathed his last after a prolonged illness
One of India's most well-known, gifted and popular writers, columnist Taarak Mehta, succumbed to an illness at the age of 87. The news was shared by a leading media agency on Twitter.
Asian News International (ANI) first broke the news and shared it on their official Twitter page, writing, "Renowned Indian humorist and playwright Taarak Mehta passes away at the age of 87 years after prolonged illness".
https://mobile.twitter.com/ANI_news/status/836804749018214400
Taarak Mehta was best known for his column 'Duniya Ne Undha Chasma' in a Gujarati daily. The popular TV series on SAB TV 'Taarak Mehta Ka Ooltah Chashma' is an adaptation of his popular column.
The TV series is running successfully on the channel for more than eight years. The viewers appreciate the light hearted series for its simplicity and content. Tarak Mehta with his column 'Duniya Ne Undha Chasma' had tried to send a message to look at things or situations through a different and positive perspective. This helps in facing even the toughest situations. The weekly column had first appeared in 'Chitralekha' in March 1971.
The author was awarded the Padmashri in the year 2015 for his contribution in the field of literature. Apart from 'Duniya Ne Undha Chasma', the author has also written many other stories including 'Champaklal Tapuni Jugalbandhi', 'Aa Duniya Panjarapole', 'Action Replay ½', 'Albelun America Vanthelun America', 'Betaj Batali Baj Popatlal Taraj' and more. Over the years, the author published 80 books and out of these, three books were based on columns that he wrote for the Gujarati newspaper, Divya Bhaskar.
The show 'Taarak Mehta Ka Ooltah Chashma' even today is running successfully and is created by Asit Modi under the banner of Neela Tele Films Private Ltd. Recently, one of the lead actors of the show, Bhavya Gandhi quit 'Taarak Mehta Ka Ooltah Chashma' to explore more aspects in his acting career. The show also features Dilip Joshi, who plays the role of Jethalal Gada and Disha Vakani who plays Daya Gada.
Photo Credits: koimoi