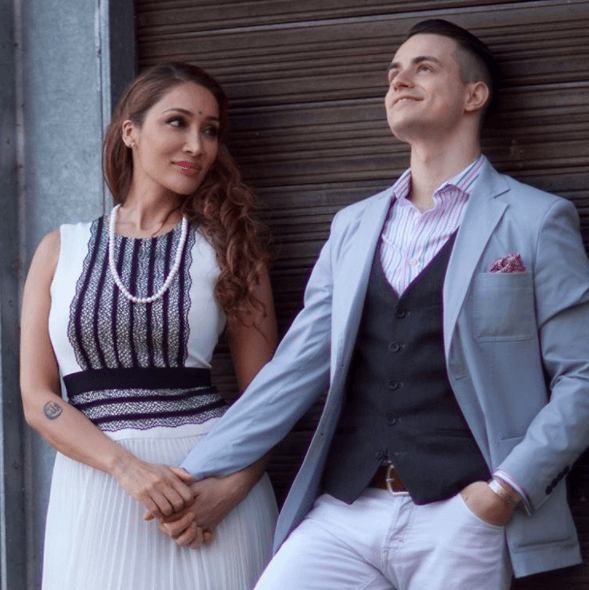 Sofia Hayat shares pictures of her with her partner, Vlad Stanescu
British-Indian actress, singer and model Sofia Hayat recently announced that she has finally gotten engaged. However, the actress had kept her fiancé under wraps and did not reveal who the person was. Until now. The self-acclaimed nun posted a number of telling images through her Instagram account. Welcome Vlad Stanescu into Sofia's heart and for all the world to behold. In one photograph, she is seen with her fiancé in a white dress, while he is in a suit. She captioned the image: "You make me so happy! I cannot wait to be your wife. We will marry with the ALL. All religions all God..in one..we are the all..we are the 1".
In the other posts by her, she is seen posing intimately with Vlad Stanescu, sometimes in red lingerie and at other times caressing him in an affectionate embrace.
The last photo of the day! I love your smile my beloved angel..my God..my heart..my All. When you smile it makes me smile. Your joy is mine and the joy of humanity. To know unconditional love is to know God..creation..and all that the earth is born of. You bring my heart so much joy! Thankyou. In gratitude and service to you I surrender. @stanescu.association
As reports would have it, the two have been together for not more than a few weeks, but have found soulmates in each other and decided to get engaged in the middle of their whirlwind romance!
I love my beautiful fiancé. Always and forever..infinitely across all dimensions. I surrender to you. You are my heart. You are perfect..you are love..you are me..we eat the same..think the same and love unconditionally…@stanescu.association
The former reality star gushed about her fiancé earlier, saying about Vlad: "He is an interior designer from Romania. He is extremely creative and so talented. He has worked on palaces for His Majesty King Fahd of Saudi Arabia, HRH Queen Silvia of Sweden, HRH Prince William Duke of Cambridge, HRH The Sultan of Brunei, HH Sheikh Khalifa bin Nasser bin Jassim Al Thani of Qatar, etc." Ok, Sofia, we get it. He's worked with royalty. But we thought you had given up your materialistic life, so why begin listing the most opulent population of the world?!
My 2 favourite boys! @stanescu.association #frenchbulldog #frenchie #love #cutepet #ayahuasca #dmt #awakening #conciousness #gaiamothersofia #egypt #Ramases #anubis #goddessisis
Anyway, she finally got down to talk about his personality: "He notices the smallest things. He is a true gentleman. He is a very old soul, and behaves so beautifully. He always pulls out my chair at dinner, opens car doors, never asks me to meet him somewhere, instead he insists on coming to me in a car, opening the door, dropping me off. He remembers the smallest things that I say, the things I like, what makes me smile, and then he does more of those things, because he says that if he makes me happy and smile, and makes my life easier, it makes him happy." Wow, is this guy even real?! How many of you girls out there are so jealous of Sofia Hayat right now?
Sofia had earlier declared that she had chosen to denounce her old life and don the self-righteous garb of becoming a sort-of non-denominational nun. She now calls herself 'Gaia Mother Sofia'. We are not judging her, but her current posts look like a conflict of interest, but to each his own, and we only wish Sofia Hayat a blessed life ahead, and sheer happiness with Vlad Stanescu.
Photo Credits: Sofia Hayat official Instagram account