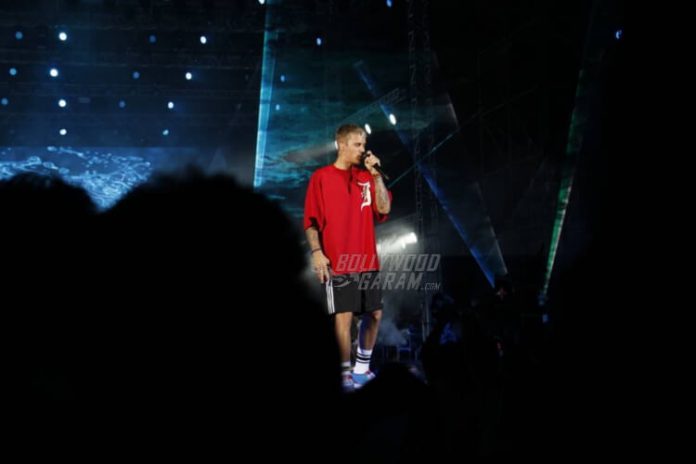 Justin Bieber fans who purchased expensive tickets are disappointed as the singer allegedly lip-synced some of his songs
A crowd of more than 45,000 fans and celebrities witnessed the Canadian singer Justin Bieber perform at the DY Patil Stadium in Mumbai on May 10, 2017. But many of the fans who paid a whopping Rs. 75,000 to Rs. 1 lakh for tickets, have complained that the star lip synced some of his songs at the concert and that just four out of 21 of his songs were sung live.
Apart from the star lip syncing his songs, there were also reports of some mismanagement as there weren't enough toilets and even water was overpriced. More reports revealed that actress Bipasha Basu came to the venue but left as she was not given a VIP car pass. A correspondent of a leading daily had reportedly purchased his first water bottle for Rs. 100 and paid Rs. 150 for the second and shockingly as the evening went by, water prices soared as high as Rs. 450 for a glass!
Filmmaker Anurag Basu, who attended the concert with his daughter, spoke to a leading daily and said, "I would have been happy if he would have sung all songs live. He only sang four songs live. An artist of his calibre should sing live. He was not prepared." Basu was among the other celebrities who turned up for the event including Alia Bhatt, Sridevi, Boney Kapoor, Malaika Arora and Arbaaz Khan, Jacqueline Fernandez, Bhumi Pednekar and others.
See entire gallery of celebrities at Justin Bieber Mumbai concert
The cheapest tickets for the event were a little more than Rs. 5,000 per ticket. Fans who paid a huge amount to watch see him live, waited all day but were disappointed and were not pleased at all. However, this is not the first time Justin has lip synced his songs. It is not just Justin Bieber but many other singing stars have been involved in lip syncing their songs. Justin is due to perform at Johannesburg on May 14, 2017. The Canadian singer cancelled his visits to Delhi, Jaipur and Agra and flew out of India just hours after his concert in Mumbai.
Photos from Justin Bieber's live performance at Purpose World Tour India 2017 concert!
Photo Credits: Viral Bhayani