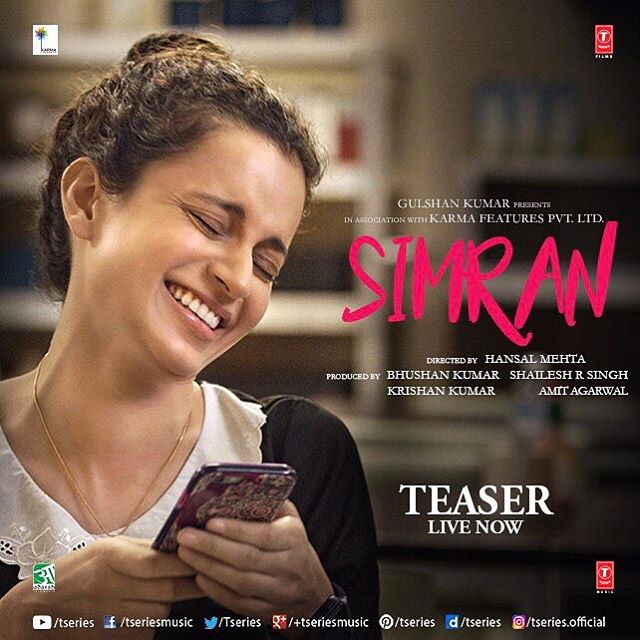 Kangana Ranaut starrer Simran  releases on September 15, 2017
After Rangoon, Bollywood diva, Kangana Ranaut will be seen in Hansal Mehta's Simran. The film is produced by Bhushan Kumar, Shailesh R Singh, Krishan Kumar and Amit Agarwal. It features Kangana Ranaut in the lead role. The official Simran teaser trailer released yesterday, on May 14, 2017 and shows Kangana as a naughty, playful and crazy girl!
Kangana is back to entertain her with her quirky role in Simran. She is playing the character of an NRI Gujarati housewife named Praful Patel, who tries to get overseas but one day gets addicted to the crime world. She is seen playing different looks in the teaser. But one thing is common in all, she is bubbly and full of life.
The teaser of Simran does not reveal much information about the film but if reports are to be believed, the movie is based on true events from the life of Sandeep Kaur, who is famously known as the Bombshell Bandit. Sandeep Kaur began as a nurse in the US and somewhere down the line, she became a bank robber. She was convicted of having robbed 4 banks in the US and was sentenced to imprisonment for 66 months in April 2015. Kangana has a similar role in the film. She will be seen as getting addicted to the world of crime. From being a nurse to a criminal, the highs and lows of her life will be shown in the film. Sohum Shah is cast opposite Kangana in the film. He is seen sitting behind Kangana in the restaurant in the teaser.
Kangana Ranaut and the entire team of Simran were seen at the wrap-up bash thrown by the makers of the film in Mumbai on April 23, 2017. Kangana is also working hard on another project, Manikarnika: The Queen of Jhansi. She has been learning horse riding and sword fighting for the film. According to reports, she will start shooting for the same from June 2017 and recently, a 20 ft. long poster of Manikarnika was launched in Varanasi.
Simran is scheduled to hit the screens on September 15, 2017. Stay tuned for more updates on Kangana Ranaut's upcoming film!
Enjoy the official Simran teaser trailer –
Picture Credits – Instagram