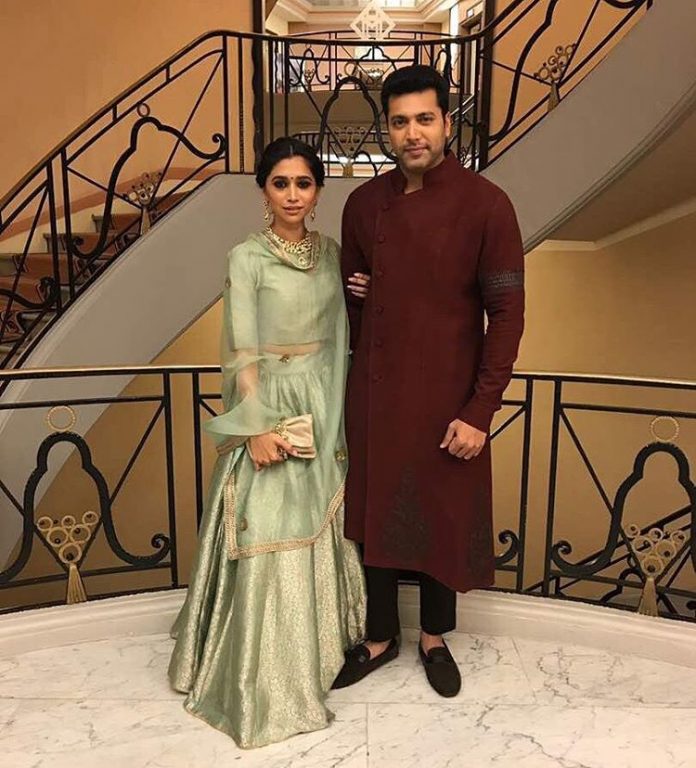 Jayam Ravi and wife Aarti Ravi made their Cannes Film Festival debut with the launch of first look poster of Sangamithra at 70th International Cannes Film Festival
South actor Jayam Ravi made his much awaited Cannes Film Festival 2017 red carpet debut on May 18, 2017 along with wife Aarti Ravi and the entire cast of his upcoming film, Sangamithra including – Shruti Haasan, Arya and director Sundar C, music composer A R Rahman and producer Khusboo Sundar.
Makers of trilingual magnum opus Sangamithra have chosen to unveil the first look of their film at the prestigious film festival and received a massive response from the audience.  Sangamithra reportedly has a bigger budget than Baahubali and is a historical drama, set in 8th century AD revolving around the story of a beautiful warrior princess. It could be a complicated love story or even a love triangle given that the lead star cast has two male actors and only one female actor. However, makers have confirmed that the film will be made in two parts – just like the Baahubali franchise.
While it's story line is being kept tightly under wraps, makers plan to commence shooting the film in August 2017. Sangamithra is expected to release in 2018.
See Jayam Ravi's entire Cannes Film Festival 2017 journey exclusively on Bollywood Garam –
Let's start with Sangamithra's official movie poster featuring Jayam as a lead character in the film!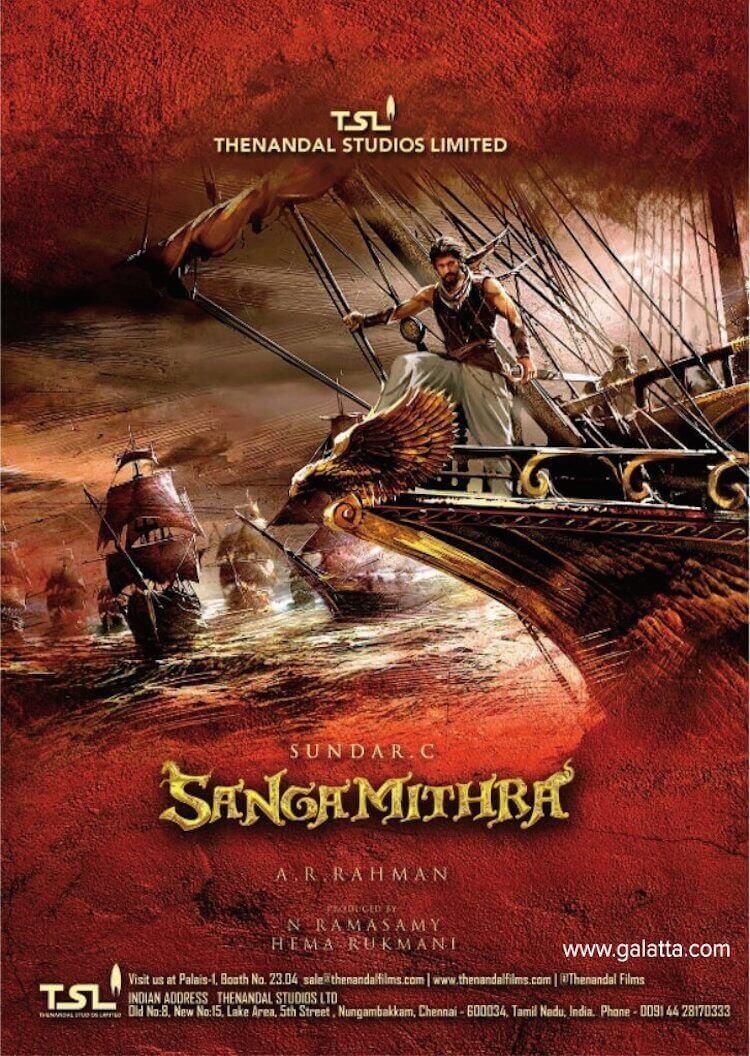 #5 Jayam Ravi at Sangamithra press interactions at Cannes Film Festival 2017, Day 3 with Shruti Haasan, Arya, Sundar C, Khusboo Sundar
#4 Jayam Ravi and wife's first look of their second day at Cannes Film Festival 2017, Day 3 for Sangamithra luncheon
#3 Jayam Ravi and wife making Cannes Film Festival 2017 red carpet debut for launching Sangamithra's first look posters
#2 Jayam Ravi and wife look 1 for meet and greet on Cannes Film Festival Day 2
One of the most chilled out and fun person @arrahman sir an absolute pleasure working with u ??#SangamithraAtCannes pic.twitter.com/exjJYcjB5Z

— Jayam Ravi (@actor_jayamravi) May 18, 2017
Day 1 Cannes Film Festival – Aarti Ravi in COAST, @StuartWeitzman & @Prada Asst by – Ashwitha &Bramhini @actor_jayamravi pic.twitter.com/vCDv2NLsRX

— Neeraja Kona (@NeerajaKona) May 17, 2017
Day 1 Cannes Film Festival …@actor_jayamravi in @burberry for Meet and Greet #Cannes2017 Asst by- Ashwitha & Bramhini pic.twitter.com/p7P39h4UCR

— Neeraja Kona (@NeerajaKona) May 17, 2017
#1 Jayam Ravi leaves for Cannes from India on May 17, 2017
And we are here at Cannes! The next few days is gonna be surreal ? pic.twitter.com/q26WBFQSNo

— Jayam Ravi (@actor_jayamravi) May 17, 2017
Our official kebab mein haddi in Cannes ???but our darling Jammy @arya_offl pic.twitter.com/ypyT8ToLMy

— Jayam Ravi (@actor_jayamravi) May 16, 2017
Off to Cannes for the launch of #Sangamitra ? A dream come true ? pic.twitter.com/5zLtjOuTLg

— Jayam Ravi (@actor_jayamravi) May 16, 2017
See Shruti Haasan's Cannes 2017 red carpet debut look and look on Cannes Film Festival 2017 Day 3
Photo credits – Jayam Ravi official Instagram Account