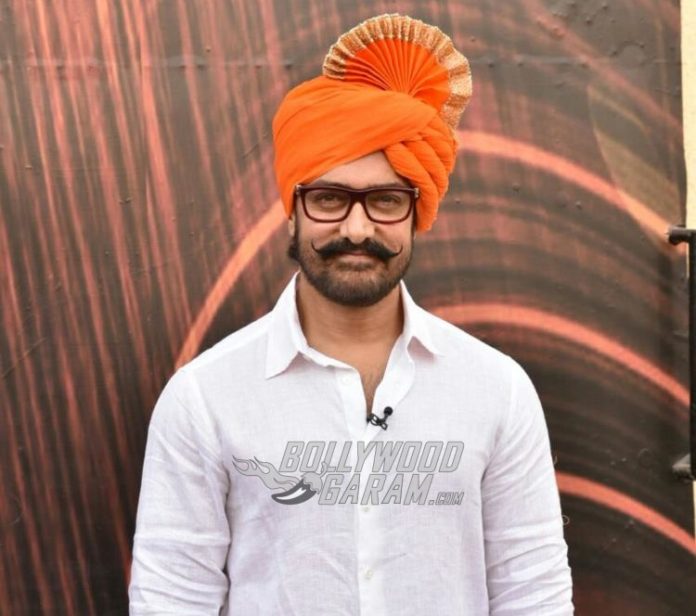 Aamir Khan talks about the success of Dangal as well as his upcoming project Thugs Of Hindostan with Amitabh Bachchan
Yesterday we shared with you the first official movie poster for Yash Raj Films' Thugs Of Hindostan. The action-drama film stars Amitabh Bachchan, Aamir Khan and Katrina Kaif, along with Aamir's Dangal co-star, Fatima Sana Sheikh. Though both acting powerhouses have been in the industry for decades now, this is the first time that Aamir Khan and Amitabh Bachchan are sharing the same screen space.
Of course, audiences will be excited to see these two superstars together for the first time. So a leading daily asked Aamir Khan about how he feels acting with Bachchan Sr. The PK actor responded with, "It is an exciting script and above all, it is the first opportunity that I got to work with Mr. Bachchan. I have always been a huge fan. It is really a great moment for me that I am finally getting to share the screen space with him."
Also see: Amitabh Bachchan looks unrecognisable in his ageing avatar for 102 Not Out
The star is also riding high with the immense success of Dangal in the Chinese market. The total collections for the film has crossed Rs. 1,500 crores at the box office. Dangal has become only the second Indian film to reach that mark, with the epic Baahubali 2: The Conclusion being the first film to break that record.
When asked about the success of Dangal in foreign markets, Aamir Khan said, "Why an actor connects to an audience is difficult to articulate. It is a very intangible thing, you cannot really pin it down. But I would like to believe that it is my films and my good work that has connected me to the people, whether it is in India or anywhere else in the world."
"The Chinese government has encouraged local cinema in a big way. They have about 45,000 screens whereas, in India, we barely have 8,000 screens for all languages. It is really something that we need to learn from them. The Indian government should do the best it can to promote popular art and culture. It needs to be exported. We need more theatres. I think that will really help the Indian film industry."
The cast and crew of Thugs Of Hindostan will be heading to Malta to begin shooting from June 5. The film is slated for a Diwali 2018 release.