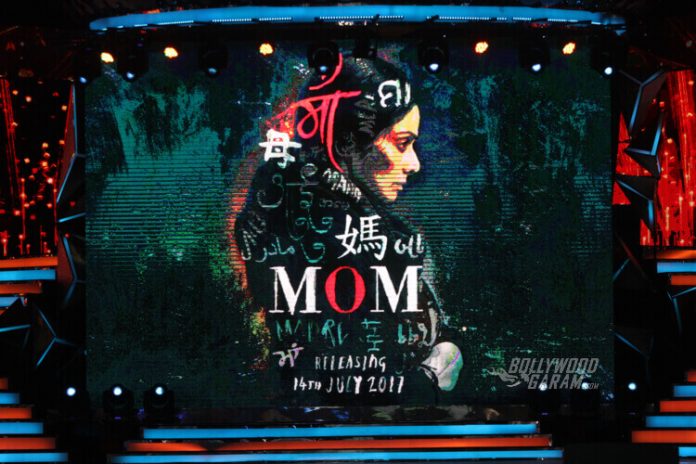 Movie – MOM
Director – Ravi Udyawar
Cast – Sridevi, Akshaye Khanna, Nawazuddin Siddiqui, Adnan Siddiqui, Abhimanyu Singh, Sajal Ali
Bollywood Garam Rating – 4.5/5
Sridevi's comeback movie MOM is a thriller drama by debutante director Ravi Udyawar. It not only shows us the conventional rape-revenge drama but also conveys the understanding and relationship between a mother and daughter. The film is beautifully presented in the backdrop of India's capital, New Delhi. It exhibits the choice between 'galat and bahut galat'.
MOM is the story of Devki Sabharwal (Sridevi), who is a biology teacher in a school and a mother of two daughters. Her elder daughter, Arya (Sajal Ali) gets sexually assaulted by Jagan (Abhimanyu Singh) and his gang after which she is thrown into a gutter to die.
Cut to next scene, Arya is struggling between life and death in a hospital. Her father, Anand Sabharwal (Adnan Siddiqui), cuts short his New York business trip and returns to be with his daughter. Devki is suffering and cannot bear to see her daughter in such a state.
Meanwhile, Crime Branch Officer Matthew Francis (Akshaye Khanna), is appointed in-charge of the rape case and his team immediately swings into action, rounding up the criminals. Devki is hopeful of receiving a favorable verdict in the case, but the culprits are left off due to lack of evidence – and she is forced to take matters into her own hands.
Devki goes on a mission of tracking down the criminals and bringing them to justice. She seeks out a private detective, Daya Shankar Kapoor (Nawazuddin Siddiqui) or 'DK' for help and the two unravel several truths in their journey of hunting the criminals down.
Another important part of the film is the relationship between Devki and her step-daughter, Arya, who is just 18-year-old. Devki's constant struggle to win the trust and love of her step-daughter keeps the emotional element rife throughout the film.
But MOM has other elements too. Cinematographer, Anay Goswamy's lensing, and lighting have added to the successful storytelling of the film and the much needed drama. of the film. The visual compositions and interplay of light and darkness give the complete look of a hard hitting thriller-drama.
Also Read –
Sridevi releases official MOM trailer with daughters Jhanvi and Khushi – Photos and Video
Makers of MOM release official audio jukebox with 7 musical tracks
Sridevi's family, Rekha and others grace MOM screening event
Picture Credits: Official Instagram Account of Sridevi Kapoor