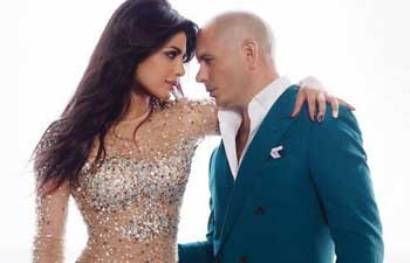 Bollywood actress Priyanka Chopra has been constantly facing criticism since her new single 'Exotic' featuring Pitbull has been released. The actress has been criticized for the content of the song, as well as her outfits. However, when the star spoke to Times of India (TOI), she appeared quite composed and relaxed about it.
Priyanka said, "I believe there is no need to be judgmental. Women have been wearing net dresses for ages now. I have worn it myself so many times, recent instance being at TOIFA. It is one of the most common combinations for a sexy outfit". The actress went on to actually quote instances when she was seen wearing a net dress.
The 'Barfi' actress mentioned that she was wearing a silver top and shorts with chains, then an 80's style neon swimsuit with comic book shoes. The actress said that all these outfits went unnoticed and instead people are talking about an outfit which comes for only 10 seconds.
Chopra also said that she does not actually care about those who are constantly trying to bring her down, but for her, it is a new thing to sing and perform in an international music video. Priyanka admitted that she might not be one of the most path breaking singers in the world, but she has tried to do something different.
Photo Credits: Santa Banta