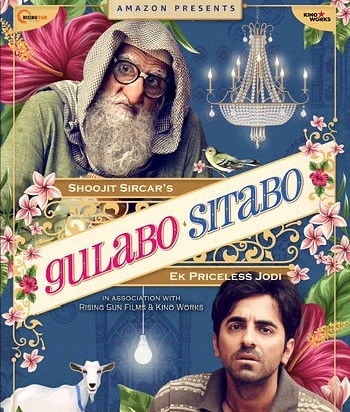 Movie Name: Gulabo Sitabo
Cast: Amitabh Bachchan, Aayushmann Khurrana, Vijay Raaz and Bijendra Jala
Director: Shoojit Sircar
Genre: Comedy-drama
Running time: 124 minutes
Bollywood Garam Rating: 4/5 stars
Gulabo Sitabo is one of Bollywood's big budget films that just released on the OTT Platform Amazon Prime despite opposition from the multiplex owners. The audience will now get to watch another masterpiece from Shoojit Sircar who managed to paint his canvas red with the help of some of the big stars like Amitabh Bachchan and Aayushmann Khurrana. Mr.Bachchan plays the role of a 78 year old Mirza Sheikh from Lucknow who is the owner of an old bungalow while Aayushmann plays the role of a youngster Baankey Rastogi who is a tenant of Sheikh and is determined not to vacate his premises.
The two frequently end up getting in to arguments, but then the tone comes from Lucknow and with two legends from Bollywood come together, the result is pure entertainment. The central part of the story is the mansion where the two lead characters live and are obsessed about it, which is unfortunately crumbling.
Amitabh Bachchan is unrecognizable with his hunched back look and a tone from Lucknow while Aayushmann has as usual mastered his art of getting in to any character that he has given and here he has done complete justice of a bachelor from small town. Shoojit has well executed the script which does not make the audience rolling on the floor, but will manage to give you the chuckles when the two lead characters lock horns in every alternate scene.
Gulabo Sitabo has maintained the flavor and language of Lucknow for the audience to experience. Aayushmann and Mr. Bachchan have brought alive their respective characters by shedding all of their inhibitions and brought out the best. This might be a disappointment for those who might have expected to watch the movie in theatres, but the need of time is to stay at home and watch Gulabo Sitabo on Amazon Prime Video.
Photo Credits: Gulabo Sitabo official Instagram account