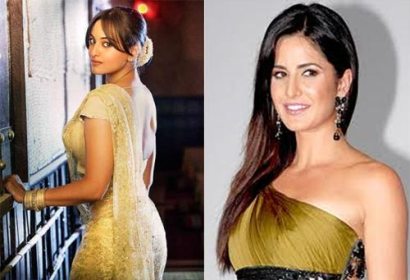 Bollywood Garam: A few years ago, when newcomer Katrina Kaif was revealed as the brand ambassador of the "Dyna" bathing soap range, heads turned across the world. Come 2011, and Dabangg actress Sonakshi Sinha is the new brand ambassador, and heads are turning again. Not because of the commercial, but because she seems to have "replaced" Namastey London star Katrina.
The fact of the whole hype is that Sinha has "replaced" Kaif, but not in a demeaning way to Kat, but just the way business goes. Kat signed up with "Dyna" when she just came to Bollywood, and the extra exposure would really help in her career, and now that she has become one of the top actresses in India, besides her brand-value increasing, critics say that "Dyna" won't be able to afford Katrina. That's when Sonakshi comes into the picture. "Dyna" needed a new brand ambassador, Sonakshi is a newcomer with a not so big " brand-value" and hence affordable, and voila, she gets the commercial and "Dyna" gets publicity for their brand. Simple!
So what's all the hype about Katrina being kicked-off by Dyna? The truth is that Dyna is a way too small brand for the Bollywood queen, and also after having moved on to a bigger brand like "Lux", it makes no sense to come back and do a commercial for a soap brand that's hardly heard of in India right?
Wonder if Sonakshi Sinha can make "Dyna" a house-hold name or whether it will need to be resurrected a few years down the line by some new Bollywood actress, after the brand fades into oblivion yet again!